D.C. Activates New Speed Cameras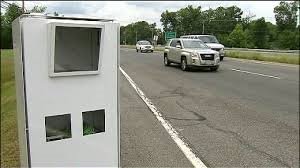 D.C. police put speeding motorists on notice Tuesday with the activation of 15 new speed-camera locations throughout the city.
Among the latest locations are Massachusetts Avenue in Northwest to Martin Luther King Avenue in Southeast.
During the first 30 days of operation, violators will be mailed warnings. Afterward, the cameras will begin generating fines of at least $50 and as much as $300.
While safety advocates insist that speed cameras have played a key role reducing traffic fatalities, fines collected from their use have boosted District coffers.
By the end of May last year, reports stated that a camera at K Street near Washington Circle had been the most profitable in the city, with more than 60,000 tickets totaling $8.1 million issued over an 8-month period.

A camera fixated on a stretch of southbound 295 generated the second-largest amount of tickets with 34,000, equaling$4.6 million in fines. — and drivers surpassing the limit in the 600 block of New York Avenue in Northeast were collectively fined $4.7 million for the 32,000 tickets they amassed.