Alexandria Initiates Food Trucks Pilot Program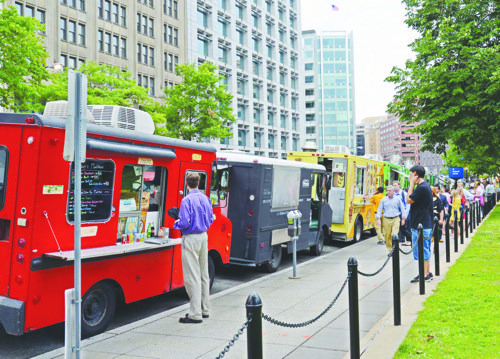 Many Alexandria residents and tourists never bought a hot dog, snow cone or salad from food trucks in that city. But in six weeks, that will change.
During its May 17 public hearing, the city council approved an ordinance creating a food trucks pilot program. From July 1, 2014 to October 31, 2015, food trucks will be limited to off-street parking on public property, such as parking lots, farmers' markets (buildings or spaces the city authorizes to sell produce, other foods or crafts), public schools and parks, with schools and parks authorities' permission.
"The council asked [its] staff to draft [a proposed ordinance] bringing food trucks to Alexandria during its March 2013 retreat," Rose Boyd, special assistant to City Manager Rashad Young, said in hearing testimony. "We distributed the initial draft in May 2013."
Boyd said the proposed ordinance amended the city code by allowing on-street and off-street parking for food trucks in restricted vending zones. The proposed zones include Old Town's King Street, the Mt. Vernon corridor, and the Carlyle district.
"Food trucks would be subject to the same licensing and health regulations as 'brick and mortar' restaurants," said Joanna Anderson, assistant city attorney.
After some residents and restaurateurs voiced concerns, Young formed a 10-person Food Truck Policy Advisory Work Group to review the council staff's proposal, suggest improvements, and propose alternative ordinances. Boyd said the group's report isn't finished.
The council passed the initial ordinance during its May 13, 2013 legislative meeting, but requested new language from Young in time for the May 17 public hearing. In addition to the pilot program, the new ordinance also gives the council time to determine whether to continue limiting food trucks to off-street parking permanently after the pilot program ends, or permit on-street and off-street parking.
"We didn't get [the new draft] until May 16, after 5 p.m.," said Vice Mayor Allison Silberberg, who chaired the public hearing. "I'm not blaming anyone for this," she added.
But some of the 51 hearing participants arguing for and against food trucks on May 17 expressed outrage over seeing the revised ordinance for the first time that day. They testified more than six hours as the morning hearing stretched into the evening.
While D.C. residents have enjoyed food trucks since 2009, several opponents in the Alexandria hearing characterized food trucks as noisy, trashy eyesores which could ruin Alexandria's image.
"They would be a threat to Old Town, this special [historic] section of the city, and they [generate] traffic congestion," said Old Town resident Val Hawkins.
A civic leader of Carlyle, an area of expensive condominiums and rental apartments, said food trucks would be out of place there.
"I fail to see how food trucks fit into our district," said Janet Gregor, head of the Carlyle Community Council. "Please let the advisory group finish its report and [postpone the food trucks vote]."
Van Fleet of Alexandria said other Virginia cities' food truck regulations seemed stricter than those suggested for Alexandria. "You've been given poor information by your staff," he told the council. "You need a new staff."