Burrville Elementary to Host Neighborhood Block Party
D. Kevin McNeir | 5/21/2014, 3 p.m.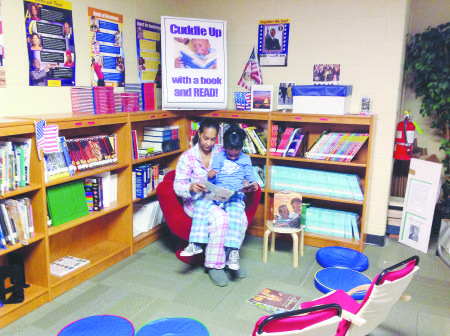 Good things are happening at an elementary school in the District and to share the news teachers and staff will host a block party for the students, their parents and the community.
The event on May 22 kicks off a year of outreach activities sponsored by Burrville Elementary School in Northeast – each designed to improve the way teachers work with families and increase student achievement.
"The work begins now in our efforts to build positive relationships with the families of our students," said Tui Roper, 40, principal. "When I first took over at Burrville three years ago, we were dealing with tumultuous relationships between the school and parents. It was tough to change the approach of our teachers but for the sake of the children we knew something had to be done."
Help would come in the form of a partnership with the Flamboyan Foundation — a District-based private project that provides training and support aimed at improving family-engagement strategies. Burrville, along with six other D.C. schools, joins a growing list of schools throughout the District known as Family Engagement Partners.
The results, said Flamboyan Executive Director Susan Stevenson, have been stellar.
"It's a competitive process but Burrville met the criteria with flying colors," said Stevenson, 50. "We were impressed with how much their principal and all the educators in the building value families and think about engaging them strategically to improve the education of children. They have
already tried some great family engagement strategies and are hungry for more."
Roper said the coaching, training and program development that her teachers are now receiving from Flamboyan, whose costs run between $15,000 and $25,000 for a typical elementary school per year, will go a long way in fostering an improved level of trust between parents and the school. The Foundation covers the cost of training teachers.
"In my first year as principal, participation at our parent-teacher conferences was only 20 percent. For some of our classes, that number has now risen to 70 percent. But the gap still exists and our teachers need to feel more comfortable visiting homes, engaging with families and improving relationships. We have to begin meeting parents where they are – in their homes. And during the block party this Thursday we want to celebrate the good things that our students are doing."
Teachers at Burrville agree that home visits will improve the way they relate with parents and with their students.
Karen Smith, a D.C. native, began teaching at Burrville 19 years ago. Two of her children now attend the school.
"I trust the learning that takes place here," she said. "The student-led conferences that our principal initiated are similar to those that Flamboyan teaches its partners. They took some getting used to but it's great to see children explaining what they've learned and how they've mastered their studies. Students become more independent and better thinkers because they can articulate what they're learning."
Teachers Cory Haley, 34 and Rachel Wessler, 24, will serve as the school's team leaders for the Flamboyan partnership.