D.C. Political Roundup: Lockridge, in a Surprise Move, Supports Pannell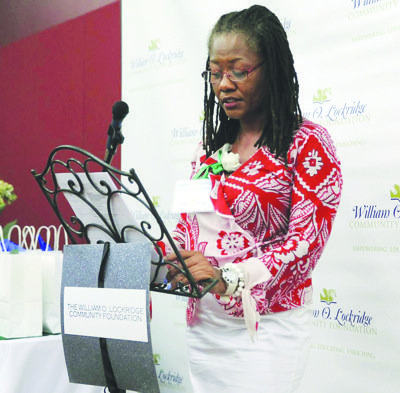 Wanda Lockridge, the widow of the late William Lockridge and a former chairman of the D.C. Democratic State Committee, wants Philip Pannell, who at times she has had a contentious relationship with, to be the next Ward 8 District of Columbia State Board of Education member.
Lockridge announced her support for Pannell during the May 14 meeting of the D.C. Democratic State Committee.
"I have had three long conversations with Philip," Wanda Lockridge said. "I shared some concerns that I had about him being the ward's state board of education member. I need to see some things from him but I will support him."
William Lockridge died January 12, 2011 and Trayon White, a protégé of both Lockridges and D.C. Council member Marion Barry (D-Ward 8) won the April 26 special election to take his seat. Pannell placed second in the election and challenged White in 2012 but he lost in the November general election.
During both elections, Wanda Lockridge made it clear that she felt Pannell couldn't work with people who didn't support his ideas and programs. She questioned his ability to operate as a team player. Pannell has dismissed her claims and said that she judged him unfairly.
White stepped down from the board of education in March to accept a position with the District government. Pannell will face three other challengers – Darrell Gaston, Derrell Simpson and Tierra Jolly – in the Tuesday, July 15 special election to claim the seat.
Pannell, 63, serves as the executive director of the Anacostia Coordinating Council in Southeast and as president of the Congress Heights Civic Association. He's an active leader in Congress Heights' AARP chapter, has also served as treasurer of the Ballou PTA and led the Ward 8 Democrats.
Pannell has proven to be one of the District's most savvy political activists. Politicians and political wannabes throughout the city regularly seek his advice on strategy and outreach during an election cycle.
Today, he's working with former D.C. Council Chairman Arrington Dixon and others to get District Democrats to rally around former Secretary of State Hillary Clinton as the country's next president. 
If Pannell wins on July 15, he will be the first black openly gay individual to be elected to a major political office in the city.
Wanda Lockridge said that she considered Pannell's opponents but doesn't see one who could carry on the mantle of her late husband the way Pannell could.
"He assured me through our conversations that he is the best candidate," she said. "I will give him a try."  
Ward 7's Whitlock Dinner Postponed
 The annual Lorraine Whitlock Scholarship and Recognition Dinner, a key fundraiser for the Ward 7 Democrats, will not take place this year, the chairman of the organization said.
"It will be held next year," said Ed Potillo, 45. "We wanted to regroup and retool the dinner and we needed more time in order to do that."
The dinner is a major political event for elected officials and political activists throughout the District. The event's namesake, Lorraine Whitlock, championed home rule for the District and supported Marion Barry's early political career in the 1970s. She also played a role in drafting and persuading Anthony Williams to run for mayor in 1998.
Whitlock died in 2003 at the age of 83.
The dinner recognizes Ward 7 Democrats who have performed outstanding community service and gives college scholarships to young people in the ward. The event generally takes place in the spring.
The District's April primary appears to be the main reason why the dinner has been cancelled, Potillo said.
"Elections consume a lot of time and energy and putting together the dinner requires work," he said. "We are committed to holding it next year – in 2015 – but [we] will [also] restructure it."