EDUCATION BRIEFS: Local Arts Program Benefits D.C. Schools
5/21/2014, 3 p.m.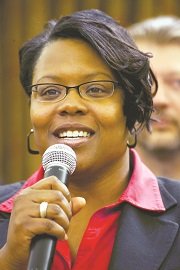 The recent "Arts Night 2014," sponsored by the DC Education Fund, brought together numerous patrons of the arts who donated thousands of dollars for the artwork of students and teachers.
The event, held May 15 at the Pepco Edison Place Gallery in Northwest, also celebrated the launch of "ArtsNowDC" – a year-round program in which about 40 of the lowest-performing schools will be participating when classes begin in the fall.
"Our young people thrive when we provide access to arts and humanities programming," Chancellor Kaya Henderson said. "The launch of "ArtsNowDC" will allow us to provide additional opportunities to our students who need it most."
More than half of the $100,000 goal the Fund set for the gala, which included both silent and live auctions, has already been raised. However, to support the new education initiative, Peggy Cooper Cafritz, gala coordinator and arts collector George Vradenburg have committed additional funding.
"This is a great example of DC Ed Fund's mission – bringing community leaders and philanthropists together to raise private funds to help DCPS meet the needs of its students," said Catherine Townsend, DC Education Fund executive director.
New Plans for Roosevelt High
Chancellor Kaya Henderson recently announced a proposal to renovate Roosevelt Senior High School in Northwest, and change its focus to international relations.
Plans call for the new building to be completed in time for the 2015-2016 school year, and some of its offerings will include dual language programs, international travel for students and a technology-oriented curriculum.
"When we modernize our schools, we don't want to just stop at the building. The modernization gives us a chance to take a look at what's happening inside and outside," said Henderson. "Our global economy is demanding so much more of our students – [and] Roosevelt International High School will graduate students prepared to succeed in this competitive environment."
Henderson added that details of the program changes and enhancements will be finalized following conversations with parents and education advocates.

"The community has shared with us their strong commitment to ensure Roosevelt stays on a path toward success," said Henderson. "We are excited by the possibilities of this new focus and theme and look forward to working with the Roosevelt community to think through details."
Teaching Essay Deadline
The deadline for submissions in the "Why I Teach Essay" contest – a project in collaboration with the Washington Teachers' Union (WTU) and author and teacher trainer Caroline Brewer, is at midnight on Friday, May 23.
All WTU members are eligible, and can submit a 250-word essay detailing why they chose a career in teaching.
Essays will be judged by the DC Area Writing Project, which is sponsored by the Howard University School of Education.
Awardees will receive an autographed copy of the print edition, "Why I Teach" by Brewer.
In addition, the top four awardees will be treated to dinner on Thursday, June 12 with WTU President Elizabeth Davis.
Entries can be emailed to Joia Jefferson Nuri, WTU communications specialist, at jnuri@wtulocal6.net.