THE RELIGION CORNER: Twelve Things That Make Men Rich (Part 9)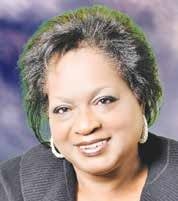 In every situation, you can at least listen, you never know, there could be something you get out of being open minded; if nothing except to make a decision that you never want to be like that or that you intend to put together a plan to put a stop to what it is you have just heard. In fact, suppose you're in the presence of someone who has committed a crime. Rather than turn your back on them, here's your chance to minister to them, especially if they are showing godly sorrow. That's what our Lord Jesus Christ did in the Bible, over and over again! He came to seek and save the lost. When you turn away from people because they seem different or they've committed a crime, then you're not living up to the role of a true Christian. Plus Napoleon Hill studied the most successful men and discovered an open mind on all subjects toward all people was a trait that every successful person had in common.
I found this a hard thing to do recently when I judged a guest at my cousin's home. Talking a lot, drinking whisky and beer and seemed as if he really didn't have anything going on, however at the end of the evening, we were shocked to see the nice home – probably a million dollar property – this man lives in with a large manicured, fenced in yard with two garage doors. As we drove through the alley, he told us about his estate and we learned that he owns two Jaguars. Were we all shocked!
We judged this man based on what we saw and heard. He had been drinking and was definitely talking in an irrational manner. Something must have gone wrong in his life. Now that I know, it would be my place to try to help him if there was something I could do, but my mind wasn't open initially.
Given the fact that he was drinking, we could only judge by what was before us. But this principle reminds us we must have an open mind on all subject toward all people. His behavior gave me justification, but we did not have open minds since we really didn't know the individual. Had we spoken to him on another day when he was sober, we would have formed a different opinion.
The moral of the story: we cannot judge a book by its cover. We cannot always believe what we see and hear. In life, just because someone looks successful doesn't mean they are. And conversely, when they seem to be downtrodden, doesn't mean they are. Keep an open mind.
The Bible tells us to be careful; we never know when we are entertaining angels. Here is what is says in the King James Bible: Be not forgetful to entertain strangers: for thereby some have entertained angels unawares.
Remember Joseph of the multicolored coat, sold into slavery by his own brothers. Remember the words that Joseph spoke to his brothers, years later, Even though you intended to do harm to me, God intended it for good …. (Genesis 50:20).
Here is another important scripture which urges us to support one another, no matter what the crime. For it is written in the book of Romans Chapter 19 where it says: Beloved, never avenge yourselves, but leave room for the wrath of God; Vengeance is mine, I will repay, says the Lord. 20 No, if your enemies are hungry, feed them; if they are thirsty, give them something to drink; for by doing this you will heap burning coals on their heads. 21 Do not be overcome by evil, but overcome evil with good.
Lyndia Grant is a radio talk show host on 1340, WYCB AM, Fridays at 6 p.m.; visit her website at www.lyndiagrant.com; call her at 202 518 3192; send emails to lyndiagrant@lyndiagrant.com.