Seniors Cautioned to Beware of Scams
D. Kevin McNeir | 5/21/2014, 3 p.m.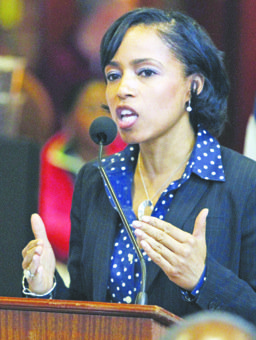 The respect once given to elders continues to be replaced with schemes, scams and acts of foul play, robbing many older adults of their homes, life savings and self-respect.
But with proper education and knowledge of the law, there are ways that seniors can protect themselves.
"Our seniors are a treasured resource in our communities," said Angela Alsobrooks, Prince George's County State's Attorney, addressing hundreds of seniors last Tuesday on annual Senior Law Day. "Without the sacrifices you have made, I would not be able to stand here today as your state's attorney. So I want all of you to know that if anyone harms our seniors in any way, my office will come after them and prosecute them to the fullest extent of the law."
Alsobrooks cautioned seniors to beware of unscrupulous individuals bent on threatening their financial security during a day of workshops and panels sponsored by the Department of Family Services. She added that her office has stepped up efforts to prevent such crimes and continues to prosecute those who commit them.
During the half-day event held on May 13 at Prince George's Community College, seniors learned about the kinds of schemes commonly used to defraud them. Throughout the month of May, established in 1963 as Older Americans Month, various events take place that address the concerns of those 65 and over. In addition, local communities sponsor ceremonies and fairs acknowledging the contributions of seniors.
As more Americans live beyond their 60's, their needs will increasingly dominate discussions locally and nationwide. Statistics from the U.S. Census Bureau indicate that in 2012, those 65 and over accounted for 13.7 percent of the total population, just over 43.1 million citizens. However, projections estimate the number of seniors to double by 2060. If correct, 20 percent of the total population will have reached 65, totaling 92 million people. Of that number, 18.2 million would be 85 or older.
Alsobrooks, the first state's attorney to assign a prosecutor specifically to address crimes against seniors, said she remains committed to keeping the elderly safe. Under her direction, her office has indicted several individuals who had targeted seniors. Two recent cases include: a caregiver who allegedly stole more than $59,000 from an 81-year old woman by changing the amount on the checks the woman was writing to pay for her services; and a man who allegedly stole more than $64,000 from his 95-year-old mother. 
A panel discussion followed Alsobrooks' remarks that highlighted ways in which seniors can avoid being taken advantage of and what do to if they suspect someone is trying to commit fraud against them in any way. For example, seniors were told that if they receive a call from someone saying that they have won a gift or a sweepstakes, they should get as much information from the person on the other end of the phone as possible, and then share that information with others in order to determine the legitimacy of the call.
William G. Harris, 52, a homeowner in Southeast and a government employee, said communication remains the best way to protect seniors from criminals.