'Smokey Joe's Café' at Arena Stage: A Revival of the Music that Shaped the History of Rock 'n' Roll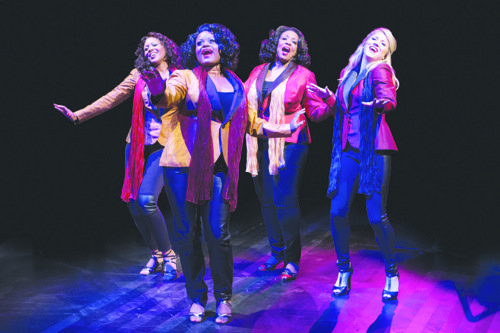 When you hear songs like "Kansas City," "Hound Dog" and "Love Potion #9," one tends to remember the artists who made the songs hits – Little Willie Littlefield, Elvis Presley and The Clovers. But thanks to the long-running hit musical revue "Smokey Joe's Café" the real stars of the songs – the duet of Jerry Leiber and Mike Stoller – stand front and center.
"Smokey Joe's Café" is by no means a new production, having played more than 2,000 performances since it hit Broadway in 1995. The Arena Stage cast, starring the inimitable E. Faye Butler ("Oklahoma," "Trouble in Mind," and "Pullman Porter Blues," at the Arena Stage) and winner of two Helen Hayes awards and seven nominations, teamed with Nova Y. Payton, another Helen Hayes Award nominee, who has worked primarily with the Signature Theatre and now makes her Arena Stage debut, is no doubt a roof-raiser.
The stellar cast rounds out the rest of the two-hour, non-stop energizing run of hits which were the soundtrack of the lives of people who lived through the 50s and 60s. Leiber and Stoller began their songwriting partnership in 1950, realizing that they had passion for the same types of music – blues and boogie-woogie and those sounds would eventually become the foundations of what is now known as Rock 'n' Roll, America's popular music.
With songs like "Stand By Me," "I Am a Woman," "Charlie Brown," and "Yakety Yak," one can hardly recall any commercial, movie or television show that doesn't use some form of their music. Adding to the excitement of the musical revue, Levi Kreis was cast as one of the lead singers, belting out "Treat Me Nice," "I Keep Forgettin'," and "Jailhouse Rock," where he employed his Tony award winning keyboard magic that gained him the prize for his role in "Million Dollar Quartet," the story of pianist Jerry Lee Lewis.
While the entire production kept energy levels high, a few pieces stood out as highlights. E. Faye Butler's souful "Fools Fall in Love," which she reprised in the second act, showed why this talented actress/singer is called back to Arena Stage productions time and time again. Her "Kansas City," also revealed the talented blues artist that she is.
Nova Y. Payton's shrill yet hard-hitting "Hound Dog," almost surpassed Elvis Presley's version in raw emotion and authenticity as she downs a no-good man in the most derogatory manner. It would only be nice to hear more solo pieces due to the strength and uniqueness of her vocals.
Her duet with Stephawn P. Stephens makes a lovely, low-key interlude counterbalancing all the high-powered choreography that keeps the show rolling at a frenetic pace.
"I love working with E. Faye and Nova! I've worked with both of them before (Crowns with E. Faye. Hairspray and Dreamgirls with Nova). We are all different types and the material that we do in the show is perfect for each of us," said Kara-Tameika Watkins, one of the two local cast members in the show, and a force in her own right.