'Smokey Joe's Café' at Arena Stage: A Revival of the Music that Shaped the History of Rock 'n' Roll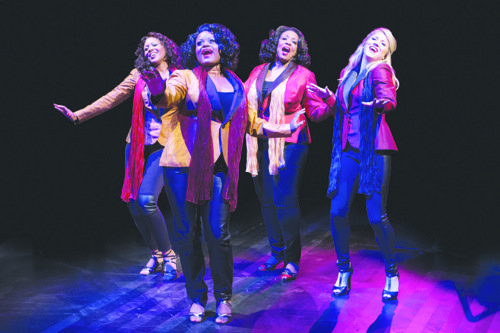 On "Trouble," Watkins and Ashley Blair Fitzgerald perform a sexy duet on opposite sides of the stage using chairs as props in a very striptease-ish rendition of the song. Fitzgerald's seductive dance on "Teach Me How to Shimmy," with Austin Colby utilizes the stage from top to bottom as she swirls and twirls her red fringed dress, showing she's not just a gifted singer, but a formidable dancer as well.
"I have been fortunate enough to perform in this show twice before with the first being in the 90s," Watkins said. "This is one show that I love doing multiple times and it's because of this music," she added.
Choreographer Parker Esse, who is no novice to Arena Stage on productions such as "The Music Man," and "Oklahoma," kicks it up a notch with innovative use of the Fichandler's round stage, keeping all areas of the stage alive. He again proves his prowess in keeping the audience engaged when Kreis performs a dance atop the railings of the aisles.
As the cast of "Smokey Joe's Café," proves why it's the longest-running musical in history, props must be given to Randy Johnson, who has assembled a band of top-grade musicians who provide the foundation and the driving force for the revue. Having just come from his Broadway debut of "One Night with Janis Joplin," Johnson keeps the band rolling through every last number, a reprise of "Baby, That's Rock 'n' Roll," a fitting way to conclude two hours of high intensity music, dance and sweet remembrances of a bygone era, the Golden Age of Rock 'n' Roll.
The musical revue "Smokey Joe's Café" at Arena Stage runs through June 8. For further information or to purchase tickets call 202-488-3300 or visit www.arenastage.org.