Volunteers Spruce Up Shepherd Parkway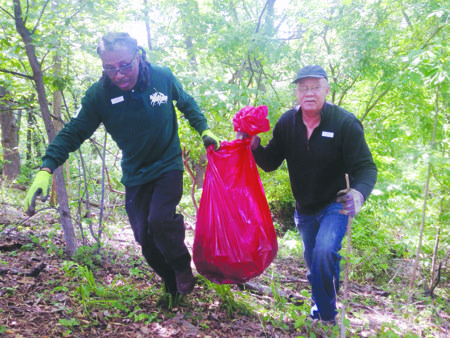 A group of more than a dozen volunteers collected nearly a ton of trash and moved closer to restoring a local park to its former glory during a service project last weekend.
More than 20 people rolled up their sleeves, slipped on gloves, grabbed shovels and trash bags and removed more than 1800 pounds of debris from Shepherd Parkway in Southeast. The cleanup, one of several that have taken place since 2011, raised awareness about the local landmark, especially among Congress Heights residents.
"A large part of what inspired us to take on this project were the disparities between Shepherd Parkway and other parks in the city," said Nathan Harrington, 31, chairman of the Shepherd Parkway Cleanup Committee.
"When you visit Rock Creek Park, you see well-maintained benches and signs that advise against dumping trash but you see none of that here. We want to turn Shepherd Parkway into a place that residents can enjoy," said Harrington who lives in Southeast.
Shepherd Parkway spans more than 200 acres and runs parallel to Interstate 295. It once served as a training ground for soldiers and a refuge for runaway slaves during the Civil War. The National Capital Parks and Planning Commission acquired the parkway in 1927 in an effort to connect the remains of Fort Greble and Fort Carroll, two Civil War defense sites, to other local forts and create what would have been known as Fort Drive. Shepherd Parkway, however, didn't become a part of the U.S. National Park Service until 1933 due to a lack of funding and interest from Congress.
Those who visit Shepherd Parkway today have a panoramic view of the U.S. Capitol, the Washington Monument and the National Cathedral. The park's also home to a variety of wildlife that includes two bald eagles nests; two species of plants indigenous to the area, and some of the District's oldest and most magnificent trees.
Volunteers met at a park on the corner of Martin Luther King, Jr. and Malcolm X Avenues bright and early on Saturday morning, gulped down cold water and nibbled on strawberry granola bars before making the trek down Malcolm X Avenue and into a wooded area. Throughout most of the morning, volunteers combed through shrubbery, snapped tree branches, moved tires, and raked through dirt in search of trash.
Michael Sharp, pastor at Morning Star Baptist Church in Southeast, brought along six of his church members to help clean up. The reverend spent much of the morning turning over tree logs and helping other volunteers lift heavy trash bags onto a nearby street curb.
"We did not just want to go to church every Sunday and leave unaffected by what happened around here," said Sharp, 62. "This is our first project and it's fun. We're cleaning up and getting great exercise. It won't be our last time helping out with the cleanup. Service is a very important part of our ministry," said Sharp who lives in Northeast.
Some volunteers like Matt Murray joined the parkway cleanup out of a concern over the lack of clean, open space that his neighbors could enjoy. Murray, a musician who moved to Congress Heights last year, learned about the cleanup from his roommate.
"Since moving here, I've noticed the disparity in services between Southeast and neighborhoods west of the Anacostia River," said Murray, 41. "Parks up there are well maintained but these parks are often abandoned. Some love and money will help preserve this parkway."
Since mid-2011, the Shepherd Parkway Cleanup Committee has organized more than 30 monthly cleanups and mobilized 500 volunteers including students from Ballou Senior High School and Thurgood Marshall Academy Public Charter School, both located in Southeast. Since the project got underway, nearly 500 tons of trash has been removed along with English ivy, an invasive plant species, from 600 trees.
Marsha Lucas considered helping beautify the park as part of her civic duty. She said that she hopes that others recognize the value of keeping their neighborhoods clean.
"I always make sure I have time to participate in these cleanups because I like coming out here," said Lucas, 37. "I recently started enjoying the outdoors and it's helped me realize how important it is to keep our parks clean. I live right down the street so it's nothing to do this," said Lucas who lives in Cheverly, Maryland.