Wizards Consider Future after Playoffs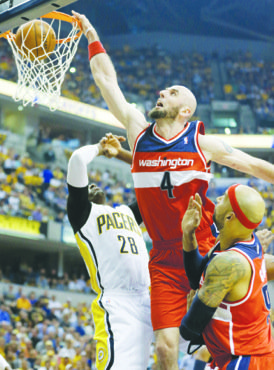 "The crowd stayed there standing, on its feet, and cheered," said Amin Vafa, a Wizards fan who writes the blog, "Bullets Forever."
"As the Wizards walked off the court, you could see they were disappointed, but the remaining fans kept their spirits high for them," Vafa said. "They thanked their team for fighting hard and surpassing everyone's expectations. They were a city proud of its team and the way it battled."
Wall said the crowd's reaction moved him and it also added motivation for he and his teammates to return stronger next year.
"To have a standing ovation from those fans and see how much they support us and cheer for us … we definitely didn't want it to end at home in front of those great fans and it was tough," Wall said. "We got into the locker room and coach came in, you could see it before he could say a word, he was very emotional. All of us were. We knew how far [we'd come]."
Beal's emotions also got the best of him as the talented guard shed a few tears after the loss to Indiana.
"When I knew I was coming out of the game at the end, it really just hit me," Beal said. "The season was over and it really hurt. For us to be in the locker room, and see coach emotional, me and John were emotional, it [was difficult]."