Greater Washington Urban League, Nationals Team Up for Black Heritage Day
gwul.org | 5/22/2014, 4:13 p.m.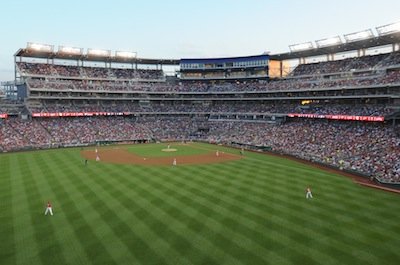 The Greater Washington Urban League will partner with the Washington Nationals to celebrate the contributions of African-Americans to the game of baseball and the community during the 2014 Black Heritage Day on Tuesday, when the Nationals play the Miami Marlins.
The pre-game ceremony will start at 6:50 p.m. and the game will begin at 7:05 p.m.
As stewards of the game of baseball in the nation's capital, the Nationals continuously strive to pay tribute to and celebrate the diverse cultures that make up the Washington, D.C. metro area community, and Black Heritage Day is an example of that commitment. "The Nationals want to reconnect our fans to the wonderful tradition and history of African-Americans in Major League Baseball," said Valerie Camillo, Chief Revenue and Marketing Officer for the Nationals. "Black Heritage Day gives us the opportunity to not only offer an entertaining experience at Nationals Park, but an educational one as well."
Several influential members of the black community will participate in the pre-game ceremony, which will include:
• Ceremonial first pitch thrown by Tara Dunlap, who won the opportunity at the GWUL Gala auction
• National anthem performed by Grammy Award winner and D.C. native Carolyn Malachi
• Lineup card delivery by Michael Akin, GWUL board chair and president, Reingold Link
• Howard University Army ROTC Color Guard presenting our nation's colors
• Starting eight featuring GWUL's Kids
• Play Ball announcement by George H. Lambert Jr., GWUL president/CEO
• A DJ from WPGC will take the stage at the Miller Lite Scoreboard Walk

All contests and videos throughout the game will highlight baseball greats in African-American history, including a tribute to Jackie Robinson and an interview about the Negro Leagues with Emmy Award-winning sportscaster James Brown.
"We are excited about this new partnership which developed from a shared recognition that the Greater Washington Urban League and the Nationals have for the commitment to embrace and celebrate the diversity of the Washington, D.C. community," Lambert said. "This is just the beginning and such a natural fit for us, I look forward to working on many more projects together."
Tickets are available at www.nationals.com/gwul at a discounted rate in both the upper and lower levels of the ballpark, with a portion of the proceeds being donated to the Greater Washington Urban League and its programs.