Gray Announces Completion of D.C. Soccer Stadium Deal
dc.gov | 5/23/2014, 3:09 p.m.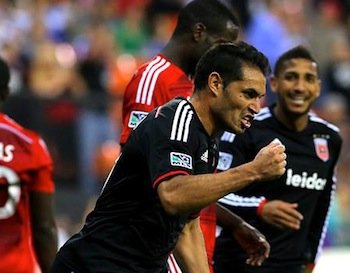 D.C. Mayor Vincent C. Gray announced Friday that the city has reached final business terms with Major League Soccer's D.C. United for a new stadium in the Buzzard Point neighborhood in Southwest.
The legislation was delivered to the D.C. Council for approval. The District now controls approximately 88 percent of the proposed site and has also brokered an agreement in principle for acquisition of the final parcels for full possession of the required land for the stadium, which will seat up to 25,000 people.
"This is a major step forward for economic development in the District of Columbia," Gray said. "The new soccer stadium will be the connector between developing areas around our baseball stadium and the new Wharf development along our Southwest Waterfront. The new soccer stadium is the final catalyst for what is certain to become one of the most vibrant and sustainable sports and retail districts in America."
Gray and D.C. United announced in July a preliminary term sheet for a unique public-private partnership with Akridge, a real estate development firm, and PEPCO, the regional electric utility that includes a series of land transactions to support the approximately $300 million project. The development of the new soccer stadium at Buzzard Point provides an opportunity to leverage the District's investment in Nationals Park and the South Capitol Street Bridge to transform an undeveloped and underused area into a vibrant and environmentally friendly new waterfront neighborhood.
By exchanging the Frank D. Reeves Center of Municipal Affairs with Akridge for a majority of the stadium site, this asset will be used to support the project while creating a new source of tax revenue. The plan also calls for current Reeves Center tenants as well as District agencies in leased space to relocate to a "new Reeves" municipal facility in Anacostia near the intersection of Martin Luther King, Jr. Avenue and Good Hope Road SE.
The new municipal complex will adjoin another recently completed facility housing the District's Department of Housing and Community Development (DHCD) and include street-level retail and adjacent residential and parking components. The facility will provide approximately 200,000 gross square feet (GSF) of office space to accommodate nearly 850 employees.
No current Reeves tenants will need to be relocated until the new Reeves Center is finished in approximately three years. The District will make every effort to keep select tenants in the vicinity of the 14th and U Street NW location for continuation of service to their target constituents.
Additionally, the deal calls for the District to acquire portions of land owned by PEPCO at Buzzard Point and for PEPCO to acquire District-owned parcels at 1st and K Streets NW. PEPCO will be required to build a new substation in this area to accommodate future growth and development in this area.
"This is another complex, public-private partnership with many moving parts that advances economic development in the District," said City Administrator Allen Y. Lew, who served as lead negotiator and previously led the development and construction of Nationals Park as the CEO of the D.C. Sports & Entertainment Commission. "Throughout this process we listened to the community and discussed our progress with the Council. Ultimately I think we have negotiated a deal that spurs economic development across the city, provides for needed infrastructure improvements and continues our efforts to create jobs and business opportunities for residents."