Gray Kicks off D.C.'s Summer Pools Season
dc.gov | 5/23/2014, 1:35 p.m.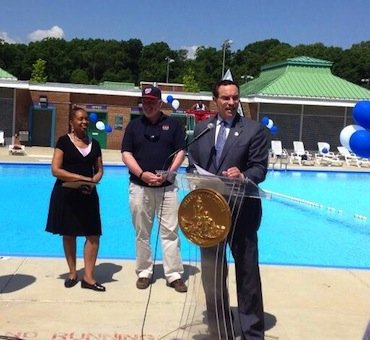 D.C. Mayor Vincent C. Gray, joined by city officials, the American Red Cross, community leaders and residents at the Fort Stanton Pool, kicked off Friday the summer outdoor pools season and open neighborhood pools across the District of Columbia through the Memorial Day holiday.
This year, Department of Parks and Recreation (DPR) Acting Director Sharia Shanklin, new DPR Director of Aquatics Tyrell Lashley, DPR water safety instructors and government officials took the first dip to kick off the season.
DPR is opening all 18 of its outdoor pools, four children's pools and 19 spray parks starting Saturday, May 24. The District's outdoor pools and spray parks will be open the entire Memorial Day weekend. Pools will operate from 12 p.m. until 6 p.m. and spray parks will operate from 11 a.m. until 7 p.m.
"Every year, residents of the District of Columbia look forward to the opening of our aquatic facilities. This year, we are proud to announce that nine new spray parks have been added to the District's inventory, with two more slated for construction," said Mayor Gray. "I invite everyone to come out and enjoy the many spray parks, outdoor pools and children's pools the District has to offer. As we move into pool season, I would like to remind our residents and visitors, it is important to follow pool rules to ensure the safety of everyone."
DPR remains deeply committed to the importance of pool safety. Stephanie Shook, American Red Cross Product Manager, spoke Friday about not only the important work being done by their organization, but also the importance of pool safety. Dr. Shanklin, Department of General Services (DGS) Director Brian Hanlon and Fort Stanton Civic Association President Barbara Jones also provided remarks at Friday's event.
"Throughout the summer season, DPR and our sister government agencies will offer a variety of safe, productive, engaging events and activities for the District's children, youth, adults and seniors. We look forward to everyone enjoying all of DPR's outdoor aquatic features starting this weekend, as well as our playgrounds, parks, centers, programs and other activities throughout the summer," Shanklin said.
From the end of the Memorial Day weekend through June 22, outdoor pools and spray parks will operate on a weekends-only schedule (Saturday and Sunday). Outdoor pools will operate from 12 p.m. until 6 p.m., and spray parks will operate from 11 a.m. to 7 p.m. Starting June 23, all outdoor pools and spray parks will operate on their normal summer schedules.
Please click the hyperlinks below for more information on:
Pool admission fees & proof of residency documents

Pool rules and safety guidelines

DPR Outdoor pools

DPR Children's pools

DPR Spray Parks
For a complete listing of DPR's outdoor, children's and spray park pool sites, please see below:
OUTDOOR POOLS
Ward 1
Banneker Pool - 2500 Georgia Ave., NW (202) 673-2121
Ward 2
East Potomac Pool - 972 Ohio Dr., SW (202) 727-6523

Francis Pool - 2435 N St., NW (202) 727-3285

Jelleff Pool - 3265 S St., NW (202) 462-1317

Volta Park Pool - 1555 34th Street, NW (202) 645-5669