Summit Gives Students Tips for Safe Summer Break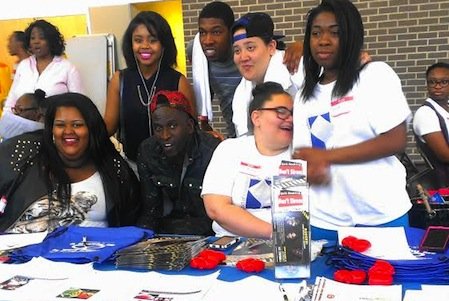 About 200 people participated Saturday in the ninth annual Youth Opportunity Summit and Town Hall at Savoy Elementary School in Southeast, an event aiming to keep students safe and out of trouble while on summer vacation.
The daylong summit, which was designed for youth and young adults from ages 12 to 24, engaged them in workshops, discussions and exhibits that centered on non-violent, non-criminal, and alcohol- and drug-free behaviors.
"This particular summit was the merger of two events, where although we concentrated on Ward 8, we also reached out to Ward 7 residents and program liaisons in their community in an attempt to broaden the focus through our partnerships that include the Metropolitan Police Department," said event coordinator Rosalind Parker. "We wanted to expose young people to positive and informative messages before they launch into summer, as crime tends to increase during that time."
Parker said the goal of the event was ultimately to make youth aware of behavior and activities to avoid while on vacation.
The event was also sponsored by the District Department of Behavioral Health, Planned Parenthood and the Ward 8 Drug-Free Coalition.
Participating students were treated to refreshments and entertainment and were also able to gain community service hours.
"We had a great time," Parker said. "We hope to eventually make the summit and town hall a citywide affair."