COMMENTARY: Spurs Will Finally End NBA Heatwave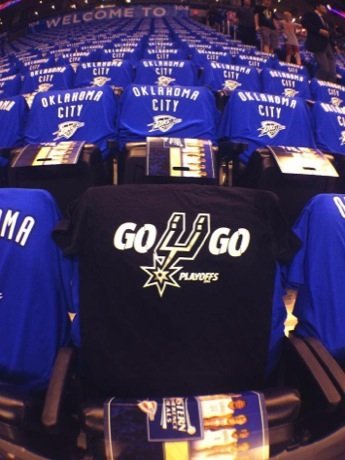 Confession time: I'm among those who picked LeBron James and the Miami Heat to win their third straight NBA title on the eve of this year's playoffs.
But can you blame me? They're currently two wins from a fourth consecutive Finals appearance and, quite frankly, have been making it look easy. Win or lose, they've surely vindicated all prognosticators who picked them to three-peat, including me.
I've changed my mind, though. There's a small-market team in Texas that might have something to say about it, and they've made a believer out of me.
The San Antonio Spurs and Tim Duncan are again in the thick of the hunt for the NBA title, surprising to few and captivating to even less. Some way, the Spurs keep getting it done, but the question isn't how; rather, why doesn't anybody care?
Granted, the Heat are the defending champs and have earned the attention and accolades they have received. But the affinity for Miami — and apathy for San Antonio — largely stems from fans often eschewing substance for style. They would rather see a King James dunk instead of a Duncan bank shot. There are players around the league that make exciting, memorable plays night after night. They just don't play for the Spurs.
Sure, Kawhi Leonard may make a highlight-worthy move. From time to time, Tony Parker will dazzle with his speed and quickness. And an aging Manu Ginobili will occasionally provide a flashback of his freewheeling style from yesteryear. But generally, the Spurs are about steadiness, not flashiness. All they do is win game after game, month after month, season after season. And this year, the Spurs will win the 2014 NBA championship.
By contrast, the Heat certainly have more flash — literally — for the average fan, which isn't meant to disparage the champs. They're atop the NBA for a reason — primarily the 6'8", 250-lb. bull that happens to be the league's best player.
But so what if there's little sizzle for San Antonio? There's plenty of steak, if fans would only pay attention. How a team with a league-best 62-20 regular season record remained under the radar after coming within seconds of a championship the year before is a near-criminal mystery, especially considering the Heat, for all of its popularity and the attention it receives, had the league's fifth(!)-best record.
Not to mention, the Spurs' continued success has come in the notoriously brutal Western Conference. Just this postseason, it took them seven games to dispatch their first-round opponent, the 49-win Mavericks. By comparison, the top two seeds in the East, Miami and Indiana, didn't play a team with more than 44 wins until they met each other in the conference finals.
The Spurs currently have a 2-1 lead against the Oklahoma City Thunder in the Western Conference finals. OKC will now have to beat the Spurs three out of four times to capture the series. It won't happen.
Fans are quick to point out that James has two championship rings and that cohort Dwyane Wade has three. They don't seem nearly as eager to remember that Duncan has four rings, two NBA MVPs and three NBA Finals MVPs. Parker has three rings and was voted the 2007 NBA Finals MVP. In addition, Ginobili, a former Sixth Man of the Year, has three rings. Sexy? Probably not. Successful? Absolutely.
Unfortunately for the Spurs, when capturing the public's fancy, talent will only take you but so far. Duncan, Parker and Leonard are clearly three of the best players in the NBA. But they aren't celebrities. They won't garner major commercial endorsements, hence (or because) they lack personality in the eyes of many fans.
It also doesn't help the Spurs that there's nothing sexy about the city of San Antonio itself. Take away its famous River Walk, and it could be mistaken for Abilene. Unlike Miami, San Antonio has no beach, no yacht-filled waterfront, no other pro sports teams and, of course, no Gloria Estefan.
But like it or not, San Antonio will play either Miami or Indiana for the NBA title in June, and the Spurs will win. They won't wow with their athleticism or style of play, but they will impress with their consistency and focus. As you watch the NBA Finals, I urge you to focus on the substance rather than the form. Perhaps that'll give you a greater appreciation for the Spurs as you witness Duncan winning his fifth championship ring.