Obama Hosts Annual Science Fair at White House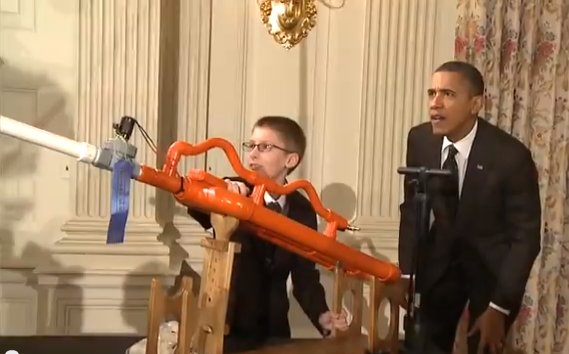 President Barack Obama played host Tuesday to the fourth annual Science Fair at the White House, where more than 100 students from across the country showcased their innovative projects, designs and experiments.
The students' exhibits which represented more than 40 science, technology, engineering and math (STEM) competitions, included a variety of robots and focused on girls and women who are excelling in STEM and inspiring the next generation with their work.
During the daylong event, Obama interacted with students as he strolled along a room at the White House, taking notice of their projects.
The students eagerly explained how they came up with the idea for their exhibits and how their innovations might someday assist developments in the STEM fields.
"If you win the NCAA championship, you come to the White House. Well, if you're a young person and you produce the best experiment or design, the best hardware or software, you ought to be recognized for that achievement, too," Obama said.
The president used the event to announce new goals in alignment with his "Educate to Innovate" initiative, which aims to inspire more students to excel in STEM courses.
The campaign will begin a new $35 million Department of Education competition to help train 100,000 STEM teachers. There will also be a major expansion of STEM AmeriCorps to provide STEM learning opportunities this summer for 18,000 low-income students.
"When students excel in math and science, they're laying the groundwork for helping America compete for the jobs and industries of the future," Obama said. "That's why I'm proud to celebrate outstanding students at the White House Science Fair, and to announce new steps my administration and its partners are taking to help more young people succeed in these critical subjects."