Casino Project Causes Uproar in Prince George's County
Council, Residents Demand Minority Hiring and Participation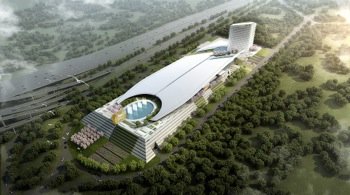 "The Office of the County Executive is currently negotiating a community benefits agreement with MGM that will cover hiring and opportunities for local contractors," said Scott L. Peterson, a spokesman for Prince George's County Executive Rushern Baker, III.
"This is an important responsibility, and we are putting the best interest of our residents first and foremost during these negotiations," Peterson said.
Patterson conceded that the fate of the community benefits agreement now lies in the hands of the county executive.
MGM officials, however, said they intend to hire qualified individuals regardless of race.
Company officials said diversity remains a key priority for MGM because it helps to foster creativity and it adds to the rich cultural mix in the communities the casino operates.
Also, officials said MGM's history of diversity has netted the company awards from Diversity Inc., and Black Enterprise magazines.
For the National Harbor casino, the company earlier announced that Radio One owner Cathy Hughes and her son plan to invest $40 million in the project, which means that prominent African Americans would have a financial stake.
"I think MGM knew right up front that they would have an inclusion in the project from the community and that they certainly had to include African Americans, not just as a face, but in a capacity to perform," said Ronald Lipford, president of the Temple Hills-based Arel Architects Inc., an African-American firm that signed on to work with the design team and others on the massive project.
Lipford, who grew up in Northwest and attended Theodore Roosevelt Senior High School before graduating from Hampton University, will act as the primary liaison between regulators in Maryland and the development team which is based in Las Vegas.
"My perspective comes from left field in the sense that we always have been able to compete while trying to jump over the hurdles of why we couldn't do things," said Lipford, 54.
"This wasn't anything different for us than just another hurdle," he said.
"When it comes to African-American participation, it's always tough for everyone, but this was a testament to us being prepared and being the first out of the block."
Lipford said he's held discussions with other local businesses and he realizes that there's an atmosphere that suggests, "You've got yours, now let me see if you can get someone else in the door."
"I'm all for that," Lipford said.
"A project of this size is a once in a lifetime thing, especially for an architect. I've attended some of the community and roundtable meetings about minority participation and my position remains the same, that we do need an opportunity."