D.C. Political Roundup: 
Bowser Talks Election, Agenda to Ward 3 Democrats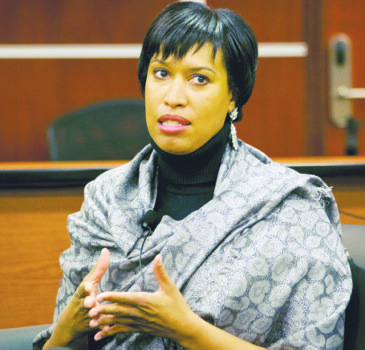 D.C. Council member Muriel Bowser (Ward 4), the Democratic nominee for mayor, knows the campaign leading up to the November general election will be nothing less than acrimonious.
"This race is shaping up to be one of the nastiest we will ever see," Bowser told the crowd of about 100 during a meeting of the Ward 3 Democrats at The Methodist Home in Northwest on May 22. "However, we are going to conduct the election on the high ground."
Bowser's chief opponent will be D.C. Council member David Catania (I-At Large), who has decided to give up his seat to run for mayor. Catania's campaign has already released a flyer that has an image of a woman whose back is turned and controlled by puppet strings.
Bowser, 41, has pledged not to engage Catania until he meets the requirements to get on the November ballot.
Bowser won Ward 3 decisively in the April 1 primary. During her 45-minute presentation, she promised to expand recreation and library hours, modernize the city's infrastructure, make the city more affordable for middle-income individuals and families, improve the health care system and create more contracting opportunities for minorities and women. D.C. Police Chief Cathy Lanier will keep her job in a Bowser administration but there will definitely be new leadership at the helm of the Fire and Emergency Medical Services department, she said.
Bowser also pledged to lobby members of Congress not only on issues dealing with District statehood but to secure additional federal money for projects such as the Walter Reed Campus in Northwest, St. Elizabeths in Southeast and Washington area subway and bus systems.
Bowser told the crowd that she will work for the residents if elected as the next mayor but she will need their help.
"I will talk to every Democrat, Republican, independent that I can before the election," she said. "This is not a walk-away election for Democrats and we will have to work hard to win."

McDuffie Takes Maiden Trip to Las Vegas
D.C. Council member Kenyan McDuffie (D-Ward 5) traveled to Las Vegas last week on a mission that didn't include sightseeing, rather to sell retailers on the merits of his ward.
McDuffie joined D.C. Mayor Vincent Gray (D), D.C. Council members Jack Evans (D-Ward 2), Vincent Orange (D-At Large), and D.C. Council member Muriel Bowser (D-Ward 4) and others for the prestigious International Council of Shopping Centers (ICSC) annual convention. Despite the city's bright lights, McDuffie stayed on course with the business at hand.
"I went there focused on economic development and job creation for Ward 5 residents," said McDuffie, 38. "I [went] to see opportunities to bring additional retail to the ward."
States, counties and cities from across the country send their elected officials to the ICSC convention to generate business for their jurisdictions. The District has done well at the ICSC, with retailers such as Walmart, Costco, and Whole Foods setting up shop in the city as a result of conversations that first took place at the convention.
McDuffie said that he told retailers about the benefits of opening up operations in Ward 5.
"I told them about possibilities along New York Avenue, Fort Lincoln, the McMillan Reservoir site and Dakota Crossing," he said. "While Dakota Crossing is built and has Costco there, I told them that there is space for other retailers, too."
McDuffie, who serves as the chairman pro tem of the council, emphasized that D.C. continues to experience an economic boon.
"I told [retailers] that they could make money in the District, with 1,000 people moving to the city every month and that our Costco not only serves District residents but those from the suburbs [as well]," he said. "I told them that the New York Avenue corridor has 132,000 cars a day that [drive along the corridor] and those are potential customers."
Evans, Orange and Bowser attend the ICSC every year but McDuffie didn't commit to the annual trip.
"It depends on what the retailers do and whether they cut deals to come to Ward 5," he said.