District Architect Treasures MGM Casino Role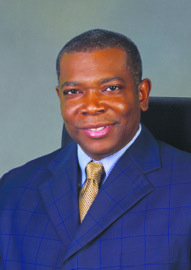 Ronald Lipford served six years as architectural commissioner of the Prince George's County Historic Preservation Commission and he played a key role in developing the New Carrollton Gateway, a high school, a police station and two local fire stations.
So, when officials at MGM Resorts promised to hire local and minority firms for its $925 million casino project at National Harbor, Lipford, the president and CEO of Arel Architects, Inc. in Temple Hills, proved to be a no-brainer.
"Arel Architects comes highly recommended and we were impressed, not only with Ron Lipford's strong roots in the community, but also by his company's record of results," said Lorenzo Creighton, president of MGM National Harbor.
"We're confident that we've found a strong partner," Creighton said.
It hasn't always been so simple for Lipford, a D.C. native who grew up in Northwest and attended Theodore Roosevelt Senior High School.
"We've been disappointed a lot," said Lipford, 54, a Hampton University graduate with post-graduate studies at both Howard and Harvard universities. "We were especially disappointed that this didn't happen with the Gaylord project."
Lipford said he thought his firm would earn a contract with the Gaylord National Resort and Convention Center project at National Harbor.
Gaylord National Resort, which has 1 million-square-feet of office space, opened in 2008. The resort also features 470,000-square-feet of convention space, 2,000 hotel rooms, 2,500 residential units and four piers and two marinas.
Lipford, however, said his firm never had a chance to be included in that project.
"It's what black businesses go through. We're scrutinized much more, but there are a lot of hurdles that we're beginning to overcome," he said.
A licensed architect with more than 30 years experience in design, project management, scheduling and inspections, Lipford started Arel in 1991.
He said he's assembled a staff of sharp, seasoned, dedicated, and trusted professionals who continue to be the backbone of the firm's success and impeccable reputation.
As a child, while most of his peers played sports and participated in various hobbies, Lipford said architectural design captured his interest
"I was born and raised on U Street in Washington where I watched the [construction] of the Howard University Hospital right in my backyard. I watched as they tore down Griffith Stadium and that's what convinced me that I wanted to operate one of those bulldozers," said Lipford, who's worked on more than $75 million in projects for numerous agencies and private firms.
"So, as a child, all of that piqued my interest," he said.
The MGM project, which local lawmakers and residents continue to demand the company include minority and local businesses, counts as a major coup for Lipford.
Earlier this month, the Prince George's County Planning Board unanimously approved the site plans for the project, which will be built along the Potomac River. Plans include a casino with about 55,000-square-feet of retail space and 50,000-square-feet of conference room space.
A hotel with 300 rooms and a 3,000-seat entertainment and performance theater are also included in the development in which officials are expected to break ground in July.
MGM officials, who estimate that the project will create more than 4,000 permanent jobs, have targeted a grand opening for July, 2016.
"We're still trying to get our arms around the magnitude of this project. We do a lot of projects, but this one kind of takes on a life of its own," said Lipford, who lives in Clinton, Maryland.

"This is no small task and a lot of our job description is not defined, but we do have to make sure that this project doesn't fall into potholes."
Lipford said he remains hopeful other African-American firms will ultimately be included. He said he will benefit in several ways from the MGM development.
"I will grow from this because of the experience. I know that I'm adding to this project, but what I've already taken away from this is that you have to be prepared, be ready from Day One," he said. "We've gotten our foot in the door and the only way you stay is if you deliver. I welcome this project, this challenge, with open arms."