EDUCATION BRIEFS: DCPS to Participate in Capital Pride Parade
5/28/2014, 3 p.m.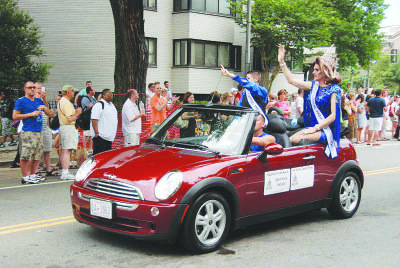 Teachers, staff, students, families, and friends of District of Columbia Public Schools (DCPS) are welcome to walk on Saturday, June 7 in the Capital Pride Parade in support of lesbian, gay, bisexual, and transgender rights.
Officials try to make schools safe and inclusive for all segments of the community, and plan to show their support by walking in this year's parade. T-shirts emblazoned with the DCPS logo will be available to participants.
Supporters who plan on representing DCPS should line up by 4 p.m. at the intersection of 23rd and O streets in Northwest.
Competition Hones Skills in Math, Science
As part of the national Junior Solar Sprint (JSS) competition, hundreds of innovative-minded students recently gathered on the campus of Friendship Blow Pierce Junior Academy in Northeast to determine which of their peer teams created the fastest and most well-constructed solar-powered vehicles in the District, Maryland and Virginia (DMV) region.
Numerous teams of 4th to 8th graders, who represented schools from across the DMV, gathered on May 20 at the Academy which is home to an award-winning robotics team.
The JSS competition, an education initiative that's been funded since 2001 by the Army Educational Outreach Program, allows middle school students to hone their knowledge in math and science through creative thinking, experimentation and teamwork in the design and building of projects such as their high-performance solar electric vehicles.
Participation in the annual event also enables students to develop problem-solving abilities, investigate environmental issues and gain hands-on engineering skills to produce the fastest, most interesting and best crafted vehicle possible.
Summer Enrichment Programs
Middle school students will have hands-on experience in engaging and challenging topics, where they will use technology and other resources to carry out creative investigations in science, math, creative writing, and social studies in a focused environment later this summer.
There's no enrollment fee for the classes which will gather from 9 a.m. to 1 p.m., July 7-Aug. 1. Both breakfast and lunch will be provided. The application deadline is June 2, and families will be notified of student acceptance on a rolling basis.
For location and other information, please call 202-731-7497.
Camp Believe
This program for students in grades 2nd through 5th, promotes self-esteem, improves decision-making skills and encourages peer relationships.
The camp, which will be held from 8 a.m. to 1 p.m., July 7 through Aug. 1, also concentrates on providing students with strategies to cope and excel in a school or other social settings.
The enrollment fee is $30 and breakfast and lunch will be served.
Information on location and registration can be obtained by calling 202-907-8056.
Camp Let's Go
The camp for children, ages 3 to 6 will be held from 8 a.m. to 1 p.m., July 7 through Aug. 1.
The project will provide language, vocabulary and phonics development through a variety of hands-on activities, including sensory motor and environmental experiences.
There's an enrollment fee of $30, with breakfast and lunch included.
For information on location and registration, please call 202-673-8363.