Film, Discussion Examines College Access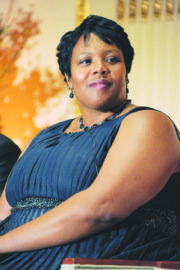 Today, a college education has become a necessity in an ever increasing information-based society. However, students from working-class families often find it difficult to navigate the complex application process and secure scholarships that make college a possibility.

Some students, like Cecelia Lopez, beat the odds and become the first in their families to get a bachelor's degree. Since graduating from California State University, Bakersfield in 2013, Lopez, the daughter of Mexican migrant workers, has toured the country to share her story of triumph.
"If you're the first in your family to go to college, you can change your family's life and especially that of your siblings," said Lopez, 22. "School work compounded with athletics and family problems made applying to colleges very difficult. My track scholarship gave me housing so my brothers lived with me [while I was in college]," said Lopez who lives in Bakersfield, California.

Last week, more than 300 high school students, parents and educators from across the D.C. metropolitan area heard Lopez's story and that of three other young adults during a screening of the award-winning documentary First Generation. The film followed the four students as they filled out applications, searched for scholarships, and struggled to explain their dreams of college to their parents.

The May 20 gathering at Landmark's E Street Cinema in Northwest counted among 70 events in 10 cities across the country sponsored by First Generation Films and Wells Fargo Education Financial Services as part of the Go College! national tour. A panel that included Lopez, Adam Fenderson, co-director and co-producer of First Generation, and D.C. Public Schools Chancellor Kaya Henderson later discussed the disparities in resources for first-generation college students.

"We want to inspire students and push them to reach their dreams of college," said Valeria Esparza, a spokesperson for Go College!, an effort to close the higher education gap among first-generation college bound students.
"They will understand that there are resources available once they watch this movie. We also have people here to provide information about scholarships and help them understand their funding options," said Esparza, 35.

A study by Massachusetts Institute of Technology economist David Autor found that disparities in college enrollment and completion have increased the wealth gap in the United States. His report, titled "Skills, education, and the rise of earnings inequality among the 'other 99 percent,'" showed that households with degree holders see a $28,000 increase in their annual earnings. Education advocates have long argued that breaking the cycle of poverty means addressing rising tuition costs and the shortage of guidance counselors in inner-city high schools that often discourage first-generation college bound students from applying in the first place.
During the panel discussion, Henderson touched on District schools' efforts to start the conversation about college when students reach middle school.
"One of the things we did was start being aspirational about college," said Henderson, 43. "We started a technology program in the middle school grades. We help students map out the road to college. When they walk into school, they will see their [projected] college graduation year on the wall."