Mosley Brings Readers New Protagonist
Move over Easy, Debbie's Arrived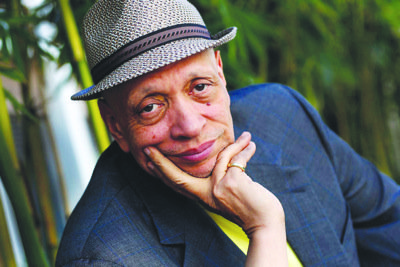 Walter Mosley knew he'd found his calling at age 34 when after working as a computer programmer and holding other jobs, he wrote his first novel.
Forty-three books later, he's an acclaimed writer and playwright and winner of numerous awards, including a PEN America's Lifetime Achievement Award, an O. Henry Award, and a Grammy. But after spending an evening with Mosley at the Martin Luther King Jr. Memorial Library in Northwest, Mosley made it clear that he refuses to be corralled into any particular box or category.
"They say I'm a mystery writer, try to act as if that's all I am. I don't care. I write whatever I like – there's nothing I don't like writing about," Mosley told an audience on the evening of May 20 at the Politics & Prose-sponsored event. "If you only write what they want you to write, you'll end up without a job and be an empty husk."
Mosley, 62, stopped in the District to promote his latest book, "Debbie Doesn't Do It Anymore."
He discussed the genesis of his novel, read the first seven to eight pages, and then took questions from the audience. Later, he signed books for a long line of appreciative fans. Mosley's irreverence, wit and self-deprecating humor had the crowd in stitches.
"It's my first time seeing him," said Mosley fan Camille Bobb-Semple after the event. "I've been a fan from the time I read 'Devil in a Blue Dress,' with a black male hero which was uncommon and depicted in such real terms, some prettied up, some not. I love that aspect of his books. This is my first time seeing him. I had to come. I'm really, really thrilled."
"I didn't know he was so funny. I'm pleasantly surprised."
Steve Johnson,* a 49-year-old federal government employee agreed.
"I've been reading him since the early '90s," he said. "It seems like that kind of hard-boiled thing was being reinvented in the '90s. It appealed to me. President Bill Clinton mentioned him and I went looking … I love him. Whoever pointed out that he engages his audience was right on the money. He loves being here."
Mosley said he's very appreciative of his followers.
"Is it surprising to see so many fans?" he asked. "I'm always happy about it. I love when people read my books. I always feel like a failure. It's not a bad thing. There have been times when there are a few people in the audience and other times, there's many more. It's really exciting when I see a whole lot of people."
The new book, written three or four years ago, is one he enjoyed writing, the Brooklyn resident said.
"A long time ago I thought of the title," said Mosley, perhaps best known for his gritty Easy Rawlins detective series. "Then three to four years ago, I decided to write it. It was hard to get published though. It's been fun. Everyone except college professors knows what it means."
The title represents a twist on the popular porn movie, "Debbie Does Dallas."