Redskins Name Controversy Heats Up Again
U.S. Senators Claim Racism, Urge Change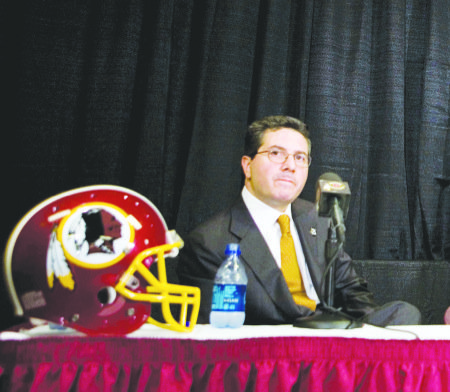 What's in a name?
For some in the Native American community and at least 50 Democratic senators, the Redskins' moniker should be banned. It's racist, they said, and many have even labeled the team's name as taboo, one they've refused to verbalize.
"Washington's team owner Dan Snyder and NFL Commissioner Roger Goodell have claimed that using the 'R-word' epithet somehow honors native peoples, but it is quite the opposite," said Ray Halbritter, the chief executive officer of the Oneida Indian Nation, a federally recognized tribe of Native Americans located in Green Bay, Wisconsin.
"The R-word is a dictionary defined racial slur," said Halbritter, 62.
Fifty U.S. senators, all Democrats, signed letters on May 22, urging the NFL and Snyder to change the team's name.
The senators noted in their letter that organizations that represent more than 2 million Native Americans around the country have said they want the team's name changed.
Reportedly, no Republican senators received an invitation to sign the letters, where Democrats compared the use of the name to the racist comments made last month by Los Angeles Clippers owner Donald Sterling.
"Today, we urge you and the National Football League to send the same clear message as the NBA did, that racism and bigotry have no place in professional sports," said the senators, which included Maryland Senators Ben Cardin and Barbara Mikulski, Senate Majority Leader Harry Reid, and Washington Senator Maria Cantwell.
After Sterling's controversial remarks, in which he angrily demanded that his mistress not bring blacks to Clipper games, NBA Commissioner Adam Silver fined the owner $2.5 million and banned him for life from the league.
Silver also ordered the Sterling family to sell the team.
"I'm convinced that if each member of this body speaks on this issue and is forceful in their resolve, that we can help initiate change," said Cantwell, 55.
Cantwell said despite Republicans being excluded from signing the letters, she's urging everyone to support a name change for the Redskins.
Last year, President Barack Obama also joined a growing number of politicians and others who said the team should consider a name change.
"If I was the owner of the team and I knew that there was a name of my team – even if it had a storied history – that was offending a sizable group of people, I'd think about changing it," Obama said.
However, team officials and many of its fans remain steadfast in their refusal to change the name.
"I don't see where the intent is to offend anyone as much as it is to honor," said Renaldo Carter, a Redskins' fan who lives in Northeast.
"I've read where this debate about the name has been going on for 10 or more years, but really it has not because it's not really an issue. I think everything today is so politicized and this isn't any different," said Carter, 51.
Ted Morgan, an Alexandria, Virginia resident and longtime fan of the team, said he's appalled that senators have compared the franchise's name to that of comments made by Sterling.