Report Urges Reform in Juvenile Justice
High Risk of Victimization, Solitary Confinement Cited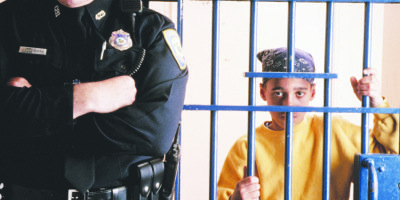 Teenagers in Washington, D.C., spent more than 10,000 days in jail with older inmates because of a statute that enables federal prosecutors to send youth accused of felonies to adult court.
A new report by DC Lawyers for Youth (DCLY) and the Campaign for Youth Justice (CFYJ) highlighted inadequate facilities, the high risk of victimization, the use of solitary confinement, and the long-term consequences of adult felony convictions on youth sentenced to prison.
The report, released on May 19, also cited the failure of the justice system to deter future crimes among the reasons for a call to reform the District's approach to the prosecution of youth as adults.
"The adult system is no place for kids," said Carmen Daugherty, the policy director at CFYJ in Northwest.
"Trying youth as adults jeopardizes public safety as there is no evidence that adult court deters youth crime in general and compelling evidence that it actually increases recidivism among those who are processed through it," Daugherty said.
Authors of the report, titled, "Capital City Correction: Reforming DC's Use of Adult Incarceration Against Youth," noted that, between 2007 and 2012, a total of 541 youth under the age of 18 had been detained or incarcerated at the 1,500-bed Correctional Treatment Facility, an adult jail in Southeast.
African Americans comprised 97 percent of those inmates while all others are considered minorities. Also, officials list 98 percent of the young prisoners as male.
While in adult jails, teens are housed in a developmentally inappropriate and inadequate facility where they receive limited educational, behavioral health, and vocational services and little time with their families, the report's authors said.
Most of the time that youth spend in adult lockup comes prior to the trial, when they're presumed innocent under the law.
"While in custody in D.C. jail, my son became withdrawn and angry and he began to isolate himself, and then he began to think that individuals in positions of authority had already labeled and stigmatized him," Catreeda Lloyd, a Northwest resident, told CFYJ officials.
Lloyd's 16-year-old son stood trial as an adult and spent three months in the D.C. jail before prosecutors changed felony charges to a misdemeanor, she said.
"Immediately following his arrest, my son began to feel inadequate, unjustly accused, and like everything was crashing down," Lloyd said. "He began second guessing himself, and wondering whether or not anybody cared."
Earlier this month, Keela Hailes, the program manager for Free Minds Book Club & Writing Workshop in Northwest, talked about her bittersweet experience this Mother's Day without her teenage son, who's in prison with adults.
Hailes, in a blog, also expressed concern about her young son's vulnerability around hardened and much older criminals.
"Because Washington, D.C., is not a state, and does not have a federal facility, our children are sent to remote and oftentimes inaccessible adult prisons all across America. As a woman who has always prided herself for being a stickler for self-accountability, I'm not suggesting that my son should have gotten away with a slap on the wrist," she said.