Seniors Complete Program, Win Scholarships
Justice Sonia Sotomayor Attends College Bound Ceremony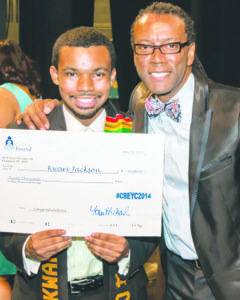 A local nonprofit handed out thousands of dollars in scholarships to a group of students during a ceremony at a prestigious theatrical venue last week.
College Bound, Inc. recognized 36 high school seniors from across the D.C. metropolitan area for completing its academic mentoring program during its 23rd annual End-of-the-Year Celebration. All of the students, many of whom participated in the program for more than three years, plan to attend an accredited college or university in the fall.
"It does not matter where you come from or what you've been through. You can be great," said Kenneth A. Ward, executive director of College Bound, Inc. since 2009, during his keynote address at the May 21 event.
"We all have struggles but I encourage you not to lose your way. The challenges you face will make you stronger. Education has everything to do with freedom. It wasn't that long ago that our ancestors could not go to school. Have faith in yourself. Believe in your dreams even when common sense tells you not to," said Ward.  
A 2013 report by the Office of the State Superintendent of Education honed in on racial and socioeconomic disparities in D.C. high school graduation rates. More than 80 percent of white students in the District graduated on time compared to 53 percent of black students. Young women enrolled in District high schools also graduated at a rate 20 percent higher than that of their male counterparts.

More than 500 parents, College Bound partners, educators, and community members watched video testimonials of College Bound students and an alumna. They later cheered on honorees as they received a total of $135,000 in scholarships. Throughout the two-hour program at Arena Stage in Southwest, a group of students provided up-to-the-minute Twitter and Facebook updates from a live room.
College Bound graduating seniors Jalen Jones and LaNae Kearse served as master and mistress of ceremonies. Guests included U.S. Supreme Court Justice Sonia Sotomayor and D.C. Council member Anita Bonds (D-At Large).

Beatrice Smoot, a College Bound alumna and viola player, serenaded the audience alongside her sister Jessica who played the violin. Smoot, who recently finished her freshman year at Point Park University in Pittsburgh, said that she appreciated College Bound's continuous support.
"College Bound has scholarships that you can apply for even after you graduate from high school," said Beatrice Smoot, 19. "It was very hands on. I always got my homework done and prepared for the SAT and ACT at the weekly meetings. We also went on college tours for low prices," said Beatrice Smoot who lives in Southeast.
The celebration provided Johnette Anderson, a health care provider who volunteered with College Bound between 2002 and 2005, an opportunity to reminisce about her experiences as a partner.

"College Bound saves lives," said Anderson, 63. "A mind is definitely a terrible thing to waste. That's why I support this program with my time and my money. More people have to volunteer. They'll like it. When I got involved, I realized that I couldn't afford not to do more," said Anderson who lives in Adelphi, Maryland.

Since 1991, College Bound, Inc., based in Northwest, has provided academic enrichment for local middle and high school students. Those who sign up receive tutoring, mentoring, SAT preparation, and career development at any of its six D.C.-based sites. College Bound's academic mentoring program pairs each of its more than 150 students with partners – men and women who work in various career fields. The connection doesn't diminish once students graduate; more than 90 College Bound alumni keep in touch with their partners through the virtual mentoring program.
Mikel Kennie, a College Bound graduating senior who will attend Indiana University of Pennsylvania in Indiana, Pennsylvania this fall, said his partner helped him become a more focused individual.

"I can talk to my partner about anything," said Mikel, 18. "He's a big brother who has been where I want to go. We've reviewed Latin, looked for scholarships, and written essays. We've even gone to the movies. He's broken me out of lackadaisical habits," the Northeast resident said with a smile.

For more information about College Bound or to become a partner, visit www.collegebound.org.