Students Learn Lesson of Compassion
D. Kevin McNeir | 5/28/2014, 3 p.m.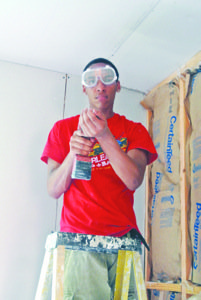 Students learn how to build functional pieces of art including tables, chairs, and coat hooks. With an ecological bent, they even use old drawers, cigar boxes and other recycled items, converting them into conversation pieces for the home or office.

Last Saturday marked their last day of selling their wares at Eastern Market in Southeast but students still have a few more weeks to secure donations before they leave for New Orleans.
The brightly-colored art work caused one shopper to spend a few extra dollars and help the young people reach their goal. Each student must raise $300 to defray the cost of the trip.

"My daughter moved to New Orleans four years ago and participates in many community outreach projects through her job," said Cheryl Morton, a Clinton, Maryland resident.

"These children have created some beautiful work – things that I will be proud to show to my friends. But even more, I felt compelled to help these young people because they're doing something positive. It warms my heart and shows that we do have youth that are doing good things for their community and others," said Morton, 58.
The Chavez students said that what they're doing does matter.
"Some of the homes still have an 'X' on the door which means someone died there," said Maria Hill, a junior who will me making her second pilgrimage to New Orleans.
"Can you imagine living in a house that's built on top of stilts? Can you believe that a lot of the kids attend schools that are in trailers? What really matters to me and to my schoolmates is doing something that makes others happy," said Maria, 18.