Scripps Spelling Enters Home Stretch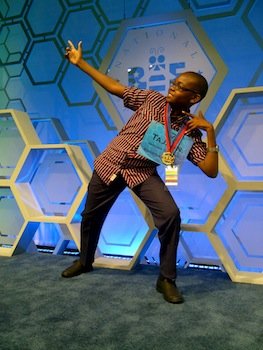 Jacob Williamson could hardly contain his emotions and fell to the floor as if in a state of praise, while Tajuan Gibbison struck track star Usain Bolt's "lightning bolt" pose.
Both young men had just learned that they are among the 12 finalists for Thursday night's championship round of the 87th annual Scripps National Spelling Bee at the National Harbor.
"I feel great," said Tajuan, 13, an eighth-grader from Jamaica. "I couldn't be happier. I'm going to go back to my room to do a little more studying for tonight."
Jacob, 15, from Cape Coral, Florida, said he planned to do the same.
"I can't believe this is happening," he said Thursday after rising from the floor of the huge hotel ballroom where the finalists' names were called out, amid resounding applause. "I'm beyond excited."
After the finalists were announced, all 12 quickly assembled with their parents and bee officials to get instructions for the finale, which begins at 8 p.m. at the ballroom.
This year's winner will take home more than $33,000 in cash and prizes.