Spelling Bee Contestant Keeps Winning Attitude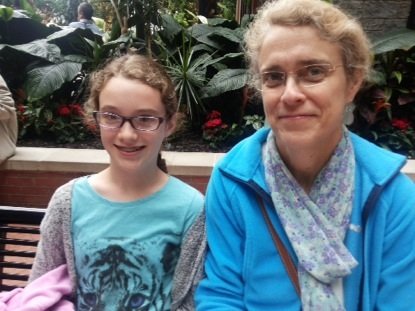 Once a winner, always a winner.
That's the attitude of 11-year-old Greer Marshall, who represented The Washington Informer in the 87th annual Scripps National Spelling Bee this week.
The rising 7th-grader from Alice M. Deal Middle School, who won The Informer-sponsored citywide bee this spring, was catapulted onto a much larger stage for the national bee at the Gaylord Hotel and Resort Center in Oxon Hill, Maryland. Though she bowed out in the third round of preliminaries, Greer's winning spirit shined bright.
"My elimination had nothing to do with spelling," she said on Thursday while enjoying ice cream cones with her mother during a break in the semifinals. "But I missed [passing] a test by two points and that kept me from moving on in the contest."
Greer qualified for the competition after taking home the $1,000 grand prize in the citywide bee. Despite falling short, she said she had a lot of fun and still feels like a winner because of the strong sense of accomplishment gained from competing.
Nevertheless, she plans to give it another try in the future.
"Next time I'm going to study, not longer, but like every day and look more at the roots of words because I've see how that helps," she said.
Greer's mother, Mary Marshall, said her daughter's participation in Scripps is "definitely a huge achievement."
"There wasn't even a spelling bee in D.C. when I was a kid," said Marshall, 49. "It was sort of amazing for Greer to have been in the contestant because her school's bee was so close to the cluster bees, which were close to the citywide bee, which was like two or three days before she had to register for the national bee.
"So it all came very quickly," Marshall said. "If she'd like to do Scripps again, she certainly has my support."
Meanwhile, Greer still has her winnings from the citywide bee, aside from a $50 contribution to a wildlife organization.
"It was for a charitable cause," she said. "I haven't decided yet what to do with the rest of the money, so I'll just keep on saving it."