City Officials Tackle Absenteeism, Truancy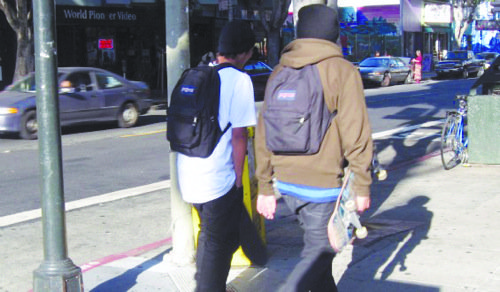 More than a year after a meeting at Anne Beers Elementary School in Southeast where city leaders, parents and community activists struggled to come to terms with the schools' burgeoning student absenteeism and truancy rates, little progress has been made lowering the numbers.
In effect, the problem has escalated, with more elementary-age students having racked up excessive numbers of unexcused days from school, according to a report released earlier this year by the District of Columbia Public Schools (DCPS) system.
In 2013 for instance, 269 pre-kindergarten students had more than 20 days of unexcused absences. During the same academic term, of the 3,408 pre-kindergarten students enrolled at District public schools, 1,518 racked up 1 to 5 days of unexcused absences.
"But you have to be careful with the numbers, because they're not always what they seem," said Mary Filardo, executive director of the 21st Century School Fund in Northwest. "There are a lot of low-income households, especially in wards 5, 7 and 8, where conditions like asthma and a host of other childhood illnesses come into play," she said.
"Four-year-olds might wake up not feeling well, so the parent is not going to send them to school. Same thing for a three-year-old who's not feeling that good," said Filardo, 60, who added that while many elementary school-age absences center on illnesses, housing issues often dictate school attendance as well.
"There are a lot of underprivileged families in the school system who have been evicted and, as a result are homeless," said Filardo. "So they end up living from house-to-house with relatives or in long- term stays at homeless shelters."
Vicky Wright Smith, whose daughter attends McKinley Technology Education Campus in Northeast, said she'd always been under the impression that the majority of middle and high school students play hooky from school.
"I wasn't aware that so many young children are missing school. It's unbelievable to hear of children at that level intentionally skipping school," Wright-Smith said. "But if they are absent to that extent, it's a parental issue going on."
She added her concern that the new school boundaries that go into effective with the 2015-16 term, could further exacerbate chronic absenteeism and truancy.

"Generally, children have access to schools in their boundaries," Wright-Smith said. "But because they have to attend schools out of their neighborhoods, which in many cases is a result of mandated school closings in their communities, children end up attending schools they don't like – and that could be a real problem as it relates to absenteeism and truancy."
Filardo agreed, noting how school boundaries can also negatively impact travel time to school.
"There are students who are traveling well over a half mile to school, with the average distance of travel in wards 7 and 8 being a mile-and-a-half," said Filardo. "They've got to figure out their bus routes on routes that were not designed for getting children to school, and because of this, there's been some really difficult travel situations in wards 5, 7 and 8, where so many of the neighborhood schools have been closed," Filardo said. "So the children are kind of going all over the place just to get to school, which, of course, results in absences and truancies on all grade levels."