Defining the Howard-Morehouse Rivalry
Fans, Alum Reflect as Teams Prepare for AT&T Nation's Classic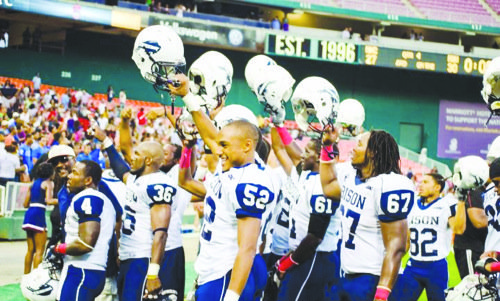 The AT&T Nation's Football Classic launched four years ago as a new age black college gridiron showcase with organizers boasting the proud tradition, service, unity and heritage of Historically Black Colleges and Universities (HBCUs).
And, as the fourth annual game kickoffs at RFK Stadium in Southeast on Saturday, Sept. 13, at 3:30 p.m., the matchup featuring the Bison of Howard University and the Maroon Tigers of Morehouse College provides a compelling back story of a rivalry that's as fierce as any in sports.
"It is one of those unwritten rules, the game is very important," said Howard University head coach Gary Harrell, whose team has won each of the three games in the series. "The rivalry goes a long way," Harrell said.
The two proud institutions share a lot in common, other than the obvious being that they're both HBCUs.
Located in Northwest, Howard opened in 1867 on the principle that education requires the constant engagement of faculty toward the students and their needs, and by a rich social and cultural life.
Down South, in Atlanta, Morehouse opened the same year as Howard with a mission to develop men with disciplined minds who would lead lives of leadership and service.
"Graduates of both institutions have molded the cities where these schools are located. Atlanta's current Mayor Kasim Reed is a Howard University alum and singer and songwriter Eric Roberson, another Howard grad, who penned the anthem, 'Howard Girls,' also resides in Atlanta," said Carron J. Phillips, a journalist who graduated from Morehouse with honors in 2006 and who writes a regular blog.
"The first two black presidents at Howard were Morehouse Men, Mordecai Wyatt Johnson and James M. Nabrit, and Morehouse's greatest alumnus, Dr. Martin Luther King, has a memorial that stands on the National Mall," Phillips noted.
That Howard has won each of the three games in the classic doesn't mean that the rivalry isn't as strong as ever, many observers said.
"For the college football purist, the one who whines about how big money has ruined the game, there is no better match up," said Andrew Lawrence of Sports Illustrated who waxed poetically about the rivalry.
Lawrence said the two team's history on the gridiron dates to 1923, but it has endured five interruptions, including the most recent one that lasted from 1997 until the AT&T Nation's Classic started four years ago.
"As clashes among the nation's HBCUs go, this is Harvard versus Yale," Lawrence said, noting too that, with an enrollment of 11,000 students, Howard counts as less football factory than a veritable assembly line for pharmacists, architects and classically-trained musicians, while Morehouse, with an enrollment of 2,900 all men, stands as a hothouse for dentists, theologians and civil servants.
"It's a rivalry that pits famous alumni like Thurgood Marshall and Phylicia Rashad for Howard against famous alumni like Martin Luther King and Samuel L. Jackson for Morehouse and the gated communities other successful grads call home," Lawrence said. "In one corner is Prince George's County, Maryland, a Howard haven that rates among the nation's wealthiest zip codes and, in another corner, is Buckhead, Georgia, a Morehouse enclave that doesn't rank far behind," Lawrence said.