LETTERS TO THE EDITOR: Go Howard!
9/3/2014, 3 p.m.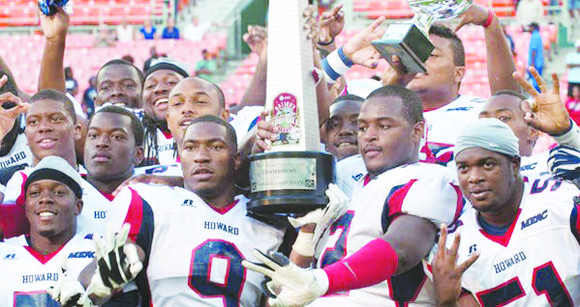 Can't wait, can't wait! That's all I can say about the AT&T Nation's Football Classic game at RFK Stadium between my Howard University Bison and the Morehouse College Maroon Tigers. I came to Washington, D.C. to attend Howard University in the 70s and never left after I graduated. I met my future wife while we were both students at Howard.
We raised two wonderful children. Unfortunately, we couldn't convince either one of them to attend Howard, but they did attend HBCUs, one in Virginia and the other in Florida, whose names I will not let part my lips.
Anyway, Howard University football games have always been a great social outlet for my wife and me. We attend as many as we can during the year, always on the lookout for old friends and alumni. You just never know who you might run into at a game on any given Saturday. I have friends who have traveled hundreds of miles to watch some games.
As far as the AT&T Nation's Classic is concerned, it's true that what happens off the field is just as important as what happens on it, as it was stated in the article by Stacy Brown, "AT&T Nation's Football Classic Returns to D.C.," published in the August 28 edition of The Informer. It's a wonderful time of the year and I just love it!
Kenny Cutler
Fort Washington, Maryland
A Refreshing Look at Black Achievement
I am a new resident to the Washington Metropolitan Area and I enjoy reading The Informer. As I was reading the article by Stacy M. Brown, "Salamander Resort Celebrates Anniversary" [Aug. 28, 2014], I started thinking to myself: "Wow, there really are some black people doing some great things."
I know this sounds a little trite, but as you know we are constantly bombarded in the mainstream media with all the negative situations blacks face. It seems like the only positive blacks in the mainstream media are wealthy athletes, and that's based on the amount of money they make.
It's great to read about Sheila Johnson and her business ventures and her humanitarian efforts. I can imagine she's had some luck along the way, but I also can imagine she's had to work very hard to achieve her goals. What I most love about what she said is that she puts family first, and the raising of her children was her greatest achievement. It's strange how our minds work sometimes, if we are constantly hearing, seeing and reading damaging comments; all we tend to think about are those negative impressions of ourselves.
Malcolm Jamerson
Washington, D.C.
Back-to-School Excitement
The back-to-school article by Dorothy Rowley in the August 28 paper brought back so many of my own memories of eagerly returning to classes, after what seemed like a very long and hot summer break, with my parents and I shopping for new clothes and shoes, checking off school supplies list, and my anticipation of reuniting with classmates as we discovered who our new teachers would be for the upcoming school year.
I can only imagine the enthusiasm as students, parents, teachers and school administrators prepared for when classes in the District resumed on Monday, August 25, and wish everyone involved a very successful school year.
My hat's off to Chancellor Kaya Henderson, who in the article, shared some of her expectations for 2014-15.
I really like the lady, and think she's done a remarkable job turning the school system around. As a result, I strongly believe that she will be the one administrator to put District schools on the map as a model for school districts across the country.
Ms. Henderson has been an exemplary leader in terms of education reform in the city, and I look forward to watching the school system continue to grow and prosper under her guidance and care.
Sylvia Nelson
Washington, D.C.