Popular D.C. Gallery and Boutique to Close Its Doors
Juanita Britton Will Vacate Premises by Oct. 31
D. Kevin McNeir | 9/3/2014, 3 p.m.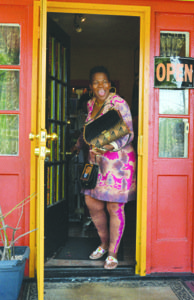 The well-known phrase "all good things must come to an end" has been used in today's culture so often that hearing it may cause the listener to moan in agony, despite its veracity.
And for those familiar with one Southeast businesswoman nicknamed "Busy Bee," the news that she'll soon close her doors has set off a flurry of poignant salutes and brisk sales.
"I've been an entrepreneur my entire life and I like the independence that comes with setting your own goals, figuring out the right path and finding success," said Juanita Britton, 55. "But we will be closing the Anacostia Art Gallery & Boutique at the end of October."
Britton has secured a deal with Rocketship Education, a public charter school system based out of San Jose, California and funded in part by tennis star Andre Agassi, which will give the school the rights to the Kwame Nkrumah Ancestral Garden in the rear of her Southeast business. The house in which the gallery now operates and all remaining property have also been sold.
"We'll be having a calling of the ancestors ceremony on September 14 with drumming as our way of [relinquishing] the ancestral garden," she said. "It will be bulldozed the next day. As for the house where the art gallery now stands, someone else has purchased that and I hear they plan to turn it into a cultural center," said Britton, a native of Detroit, Michigan who moved to the District in 1982.
Britton started her first business at the age of 10, selling lemonade during the summers outside of her family's home. By the time she had "matured" to 13, the young entrepreneur had expanded her business to six neighborhood corners – displaying the essentials of franchising long before learning the concepts in the classroom.
During the Labor Day weekend, a throng of customers filed through the doors of the boutique looking for unique pieces of art that, based on Britton's announcement, will only be available for a few more months.
"I decided to do some shopping and Juanita has such a wonderful variety of items that this had to be my first stop," said Nkenge Toure, 63, who lives in Capitol Heights, Maryland and said she'd been advised by friends to see what the gallery and boutique had to offer.
One man who works alongside Britton said her Anacostia Art Gallery & Boutique in Southeast offers something for every art lover.
"Wherever the slave trade occurred and disrupted our culture we have art from those places," said Barry Blackman, the gallery's curator. "The works from African-American artists are significant because they bridge the gap between Africa and the rest of the world," said Blackman, 53, a resident of Hyattsville, Maryland.
Evidence of Britton's business acumen can be seen throughout the District but she may be best known for her annual Christmas shopping extravaganza which she sponsors every year.
"I'm very proud of my East Coast event, the "BZB Holiday Gift & Art Show, the African-American Department Store," which draws thousands of people over four weekends of holiday shopping," Britton said. "We'll mark our 24th season this year and will have two floors filled with items for sale at Shiloh Baptist Church in Northwest."
One student from KIPP DC College Preparatory in Northeast said Britton has helped her to believe in herself.
"I started hanging out at the gallery when I was seven and eventually I began working here as a greeter," said Timera Walker, 17. "I've learned how to effectively communicate with people and I've learned so much about the world of art. Being here has made me feel good about myself."
Britton said that despite her plans to close the gallery and boutique, she'll remain quite busy.
"I've paid my Washingtonian dues and plan to stay in my house in Anacostia forever – I love this community," Britton said. "And as a consultant for artisans around the world, there's still plenty of work for me to do."
For more information about Britton, go to bzbinternational.com or call (202) 610-4188.