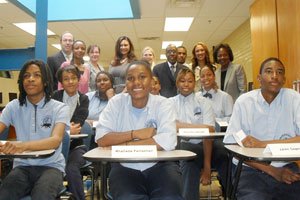 Students at Phelps Architecture, Construction and Engingeering High School in Washington, DC, and students at Maitland High School in Cape Town, South Africa dialogued (via a digital video conference) about the challenges growing up in Sout Africa and the United States. Phelps Students (from right to left) Jalen R. Cephus, 16, Khallaba Farrakhan, 16, and Quartez Turner, 16, said they had more in common with the South African students than differences. Photo by Joseph Young
Stories this photo appears in:

Much media attention is being given to the devastating effects that the world-wide recession is...