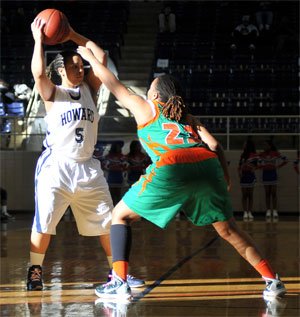 Howard University guard Cheyen Curley-Payne (#5) tries to get past Florida A&M forward Antonia Bennett during the first half of MEAC basketball action at Burr Gymnasium on Sat. Feb.,19. Curley-Payne scored 18 points and Bennett scored 19 points. Photo by John E De Freitas.
 
Stories this photo appears in:
WASHINGTON, DC - The Howard Univ. women's basketball team extended its home winning streak to...