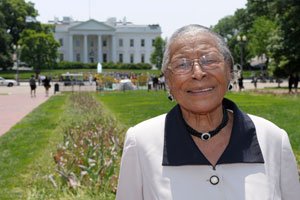 Recy Taylor stands in Lafayette Park, Thu., May 12, after visiting the White House. Taylor is touring the nation's capital nearly seven decades after she was denied justice following a brutal assault. (AP Photo/Susan Walsh)
Stories this photo appears in:
"I think that's nice. It's been a long time. I'm satisfied," was about all 91-year-old Recy Taylor offered to reporters following an apology from Gov. Robert Bentley on behalf of the state of Alabama. The apology came 67 years after Taylor was kidnapped, raped and tortured, while walking home from an evening church service in Abbeville, Ala.