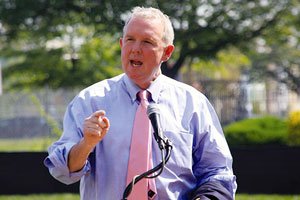 **FILE** D.C. Council member Tommy Wells (D-Ward 6) (Courtesy photo)
Stories this photo appears in:
During an open house at the DC Department of the Environment on March 15, Mayor Muriel Bowser talked about one of her predecessor's signature programs: Sustainable DC.
Wells, McDuffie Lead Effort to Remove Employment Barrier
The D.C. Council plans to give final approval Monday to legislation that removes "the box" — the space on an employment application form which requires everyone to answer whether they've been convicted of a crime.
If one looks at D.C. Council member Tommy Wells' resume, it's obvious that while he has educational credentials that would merit a lobbying career on K Street or at a prestigious law firm or non-profit in Washington, he has opted instead for the public service route.
D.C. Council member Tommy Wells, the chairman of the Committee on the Judiciary and Public Safety and mayoral hopeful, sent a letter to D.C. Mayor Vincent Gray on Tuesday demanding that Paul Quander, the deputy mayor for public safety and justice, and Kenneth Ellerbe, the city's fire and emergency management services chief, be relieved of their duties.
Students who attend the School Without Walls will be the first to try out the...