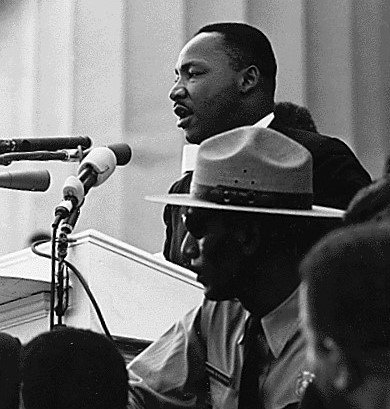 Martin Luther King Jr. gives his "I Have a Dream" speech during the March on Washington on Aug. 28, 1963. (National Archives)
Stories this photo appears in:

The National Park Service is rolling out its annual Martin Luther King Jr. commemorations that allows just about everyone in and around D.C. to participate.

The legacy of Dr. Martin Luther King Jr. is more than a statue on the National Mall in D.C.

Martin Luther King Jr. possessed more than just a dream. The civil rights champion displayed empathy not just for fellow African Americans, but any individual or group weighed down by oppression.

As the nation celebrates the 50th anniversary of the March on Washington, many are discussing what Dr. King would say to the nation and world today and tell us to do. But his message to us today is as clear as it was 50 years ago if only we could hear, heed, and follow his warnings about what we need to do to make America, America.

On Wednesday, Aug. 28, the Let Freedom Ring Commemoration and Call to Action event will take place from 11:30 a.m. – 4 p.m. at the Lincoln Memorial.

In the 50 years that have followed the March on Washington, Martin Luther King's words have echoed everywhere and inspired multitudes.