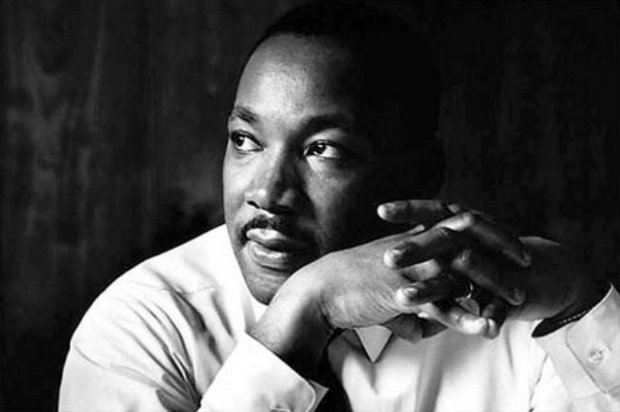 Dr. Martin Luther King Jr.
Stories this photo appears in:

Tune in on Good Friday to hear my interview with Rev. Bernice A. King, CEO of the Martin Luther King Jr. Center for Non-Violent Social Change.

How can it be that the top 1 percent of Americans enjoy more of the nation's wealth than the bottom 90 percent combined and that millions of children are hungry and homeless and poorly educated?

A federal judge has jumped into the fray involving the children of Dr. Martin Luther King Jr. to decide who gets what memorabilia that belonged to the late civil rights icon.

The estate of civil rights icon Martin Luther King Jr. has filed a complaint in Fulton County Superior Court in Atlanta to force his daughter, Bernice, to turn over his traveling Bible and 1964 Nobel Peace Prize.

On Aug. 28, 1963, on the steps of the Lincoln Memorial during the March on Washington, Martin Luther King gave one of the most powerful and memorable speeches in our nation's history.

D.C. Mayor Vincent C. Gray and Serve DC, the mayor's office on volunteerism, are calling on residents to honor the Rev. Dr. Martin Luther King Jr.'s life and legacy and mark the King holiday by volunteering in the District this weekend.

Although youth of nearly every generation have been advised — if not warned — to develop maturity with age, the life of Dr. Martin Luther King Jr. is testament that wisdom guided by principals can bring global achievement and progress — even in youth.

My 20 years as a columnist for the National Newspaper Publishers Association would not be complete without an article about five people whom I hold in high esteem: Marcus, Medgar, Malcolm, Martin, and Maynard.

On one hand, I was very pleased to see that the GOP took the time to honor Dr. King and those who marched 50 years ago, but on the other hand, they only did it for political reasons.

"The Big Six" refers to a group of prominent African-American leaders who at the height of the Civil Rights Movement were members of several organizations that fought for equality for Black people.