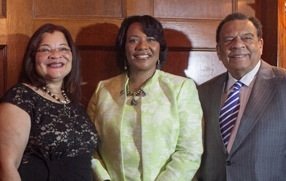 A gospel brunch to honor the late Rev. Martin Luther King Jr. and to commemorate the 50th anniversary of the March on Washington at the historic Willard InterContinental Hotel in Northwest was attended by (from left) King's niece Alveda, his daughter Bernice and Andrew Young, former United States Ambassador to the United Nations, on Sunday, Aug. 25.
Stories this photo appears in:

Washington, D.C.'s Willard InterContinental Hotel at 14th and Pennsylvania Avenues in Northwest played a pivotal part in civil rights history. It was there that Martin Luther King Jr. wrote his timeless "I Have a Dream" speech which galvanized more than 200,000 civil rights marchers at the Lincoln Memorial on Aug. 28, 1963.