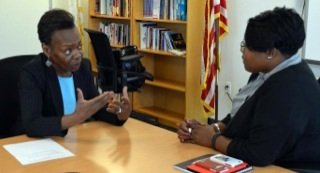 Elizabeth Davis (left), who was elected president of the Washington Teachers' Union earlier this year, chats with Kaya Henderson, D.C. Public Schools chancellor. Davis says the proliferation of charter schools targets the city's most underserved students. (Courtesy of the Washington Teacher's Union)
Stories this photo appears in:
Thousands of students, parents and teachers from more than 60 cities including Baltimore, Philadelphia and New Orleans participated Monday in an event focused on opposing education reforms that have closed hundreds of neighborhood schools and affected numerous families and communities.