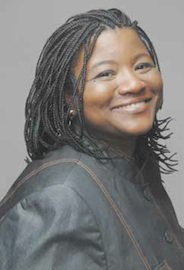 Shantella Y. Sherman
Stories this photo appears in:

It's difficult for people who do not know Marion Barry's long and storied legacy of racial and social activism in the District to celebrate him for any reason.

As millions of Americans celebrate their newfound status as medically "insured" through the Affordable Care Act, they may still join the ranks of financially strapped patients facing the rising cost of medical services.

This season's health supplement examines kidney function and the preventative measures necessary to ward off impairment.

One of my great joys as an historian is dispelling commonly held myths about African-Americans. Perhaps none excite me as much as leveling the contention established decades ago by well-meaning, but culturally biased researchers, who labeled black relationships stagnant, pathological, or otherwise unnatural.
Just months before Dr. King's assassination, he had the opportunity to sit with young people and field their questions about race, fear, and the future.

Whether it's overindulging in sweets, caffeine, or greasy foods, or engaging in reckless behaviors, teen habits can easily have lifetime consequences.