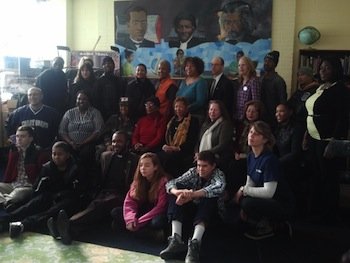 An entourage of volunteers who traveled from cities across the country this week in commemoration of the first anniversary of the Newtown, Conn., shootings, also visited the Children of Mine Youth Center in Southeast on Dec. 12.
Stories this photo appears in:

I think it was a wonderful idea for some of the Newtown victims' loved ones and others who traveled to the District on Dec. 12 for the remembrance vigil to also volunteer at the Children of Mine Center in Southeast.

Nearly a year to the day of the nation's deadliest-ever school shooting in Newtown, Conn., two busloads of the victims' loved ones and supporters from around the country trekked to the nation's capital for a two-day trip to highlight the thousands of victims of gun violence.