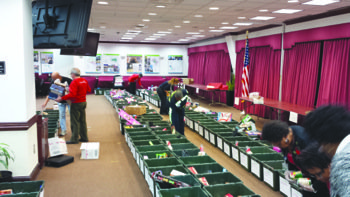 Volunteers organized green bins at WASA headquarters in Southwest on Dec. 14 by quadrant and neighborhoods before filling them with a variety of frozen foods, toys, books and clothing.
Stories this photo appears in:

Local community organizer Charles 'Chuck' Hicks has hosted lavish Christmas parties in the D.C. metropolitan area for more than 20 years. The only caveat: guests must bring toys and books or donate money for children and families who would not otherwise have gifts and goodies for the holidays.