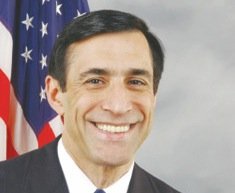 U.S. Rep. Darrell Issa is the chairman of the House committee that deals with District affairs. (Courtesy photo)
Stories this photo appears in:

The Congressional Black Caucus, upset by the recent treatment of Rep. Elijah Cummings as the ranking Democrat on the Oversight and Government Reform Committee by its chairman, Rep. Darrell Issa (R-Calif.), sent a letter on Thursday to House Speaker John Boehner calling for Issa be stripped of his chairmanship.

The decades-long struggle for the District to determine how it spends its own money made major strides recently with the legal ratification of a budget autonomy referendum by the U.S. Congress and the passage of two bills — one in the U.S. House of Representatives and the other in the U.S. Senate — that codifies the city's financial independence from the federal government.