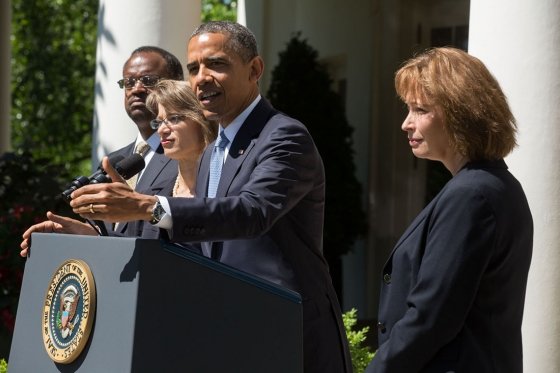 President Barack Obama delivers a statement announcing the nomination of three candidates for the U.S. Court of Appeals for the District of Columbia Circuit in the Rose Garden of the White House on June 4, 2013. Nominees from left are Robert Leon Wilkins, Cornelia "Nina" Pillard, and Patricia Ann Millett. (Official White House Photo by Chuck Kennedy)
Stories this photo appears in:

President Barack Obama on Tuesday nominated three candidates — including a prominent African American judge — to the D.C. Circuit Court of Appeals while lambasting Senate Republicans' "political obstruction" in slowing his nominees' confirmation.