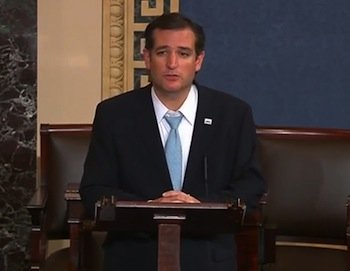 Sen. Ted Cruz, Texas Republican (Courtesy of cruz.senate.gov)
Stories this photo appears in:

Sen. Ted Cruz officially suspended his presidential campaign Tuesday night after a crushing defeat in the Indiana Republican primary, putting front-runner Donald Trump one step closer to nabbing the GOP nomination.

What's sauce for the goose should be tasty sauce for the gander.

The number of candidates who have declared for president has already ushered in a cascade of lies — and the situation will only grow worse as more climb aboard.

In the midst of a crisis when America's national government needs to act swiftly, one can count on the Republican Party, driven by its reflexive anti-Obama mania, to oppose any positive action.

Despite the political beating the Republican Party took over the shutdown, Sen. Ted Cruz and others say they will do it all again and indicate that there are plans to continue playing this dangerous game in an effort to gain political ascendency.