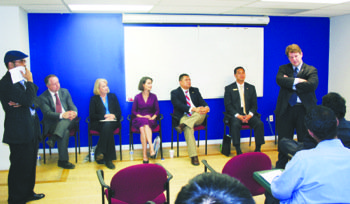 Democratic candidates for Virginia's House of Delegates talk to ethnic media reporters at a candidates' forum. From left (standing): Khalil Abdullah, New America Media, and candidates John Bell, Kathleen Murphy, Jennifer Boysko, Richard Cabellos, Hung Nguyen and Alfonso Lopez.
Stories this photo appears in:
Virginia's gubernatorial race between Democrat Terry McAuliffe and state Republican Attorney General Ken Cuccinelli dominates headlines, but on Nov. 5, Virginians also vote for House of Delegates candidates.