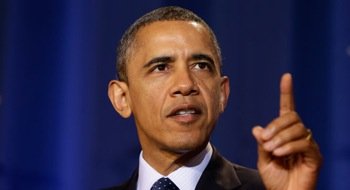 President Barack Obama
Stories this photo appears in:

President to Visit Costco Following State of Union Address
President Barack Obama will venture back into Prince George's County on Wednesday following his State of the Union address.

America has one of the weakest systems of social support in the industrial world. And the right of states to make their own decisions — on food stamps, on Medicaid, on public schools, on welfare — contributes directly to how bad it is. And now we're seeing the same doctrine — states' rights — used to undermine health care reform.

The federal government has reopened, 800,000 so-called "non-essential" federal employees are back at work, post-mortems of winners and losers drag on and a somewhat chastened Republican Party hopes it won't get punished in the 2014 midterm elections.