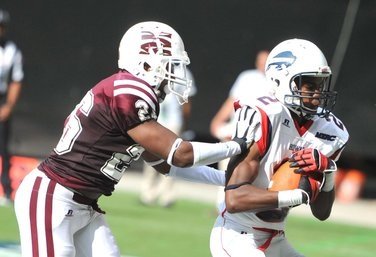 Howard Bison WR Matthew Calvin protects the football from Morehouse Maroon Tigers DB Lance Bennett en route to a touchdown in the second quarter of Howard's 27-16 win in the third annual Nation's Football Classic at RFK Stadium in D.C. on Sept. 7.
Stories this photo appears in:

Is it time to merge state-funded Black schools into mainstream schools?

There's only one reason our HBCUs schedule games against schools whose head coaches make more than their entire athletic budgets: they earn a big payday, even if that means being publicly humiliated along the way.

Howard University junior quarterback Greg McGhee racked up almost 300 yards of total offense and three touchdowns to lead the Bison (1-1) to a 27-16 win over the Morehouse College Maroon Tigers (0-1) in the third annual AT&T Nation's Football Classic before 17,012 at RFK Stadium.